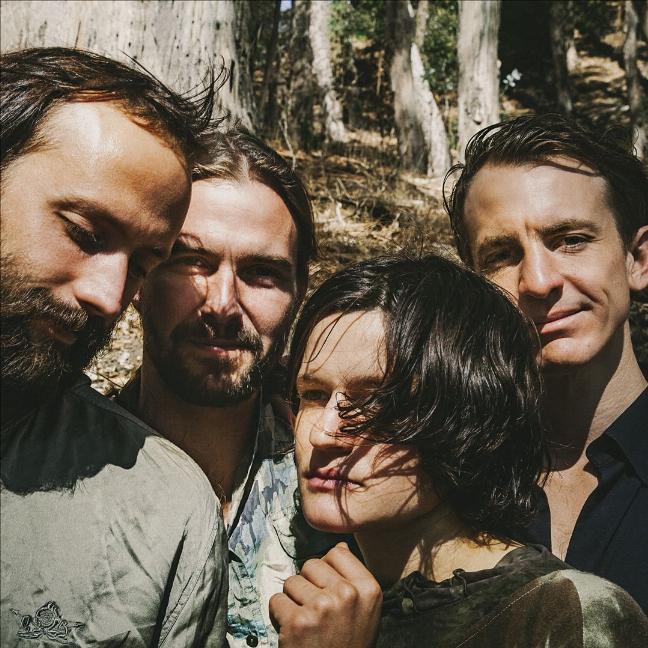 Kann Songschreiben eine Form der Therapie sein? Adrianne Lenker, Sängerin und Gitarristin der Indie-Band, hätte auf jeden Fall eine Menge aufzuarbeiten. Denn bevor sie mit ihren persönlichen Songs und ihrer fragilen Stimme die Musik der Gruppe prägt, durchlebt sie eine Kindheit, die man wohl kaum anders als "schwierig" bezeichnen könnte. Als sie geboren wird, ist ihre Familie Teil einer christlich-fundamentalistischen Sekte. Auch später prägt der religiöse Fanatismus der Eltern ihre Kindheit. Erschwerend kommt hinzu, dass die Familie innerhalb weniger Jahre an nicht weniger als vierzehn verschiedenen Orten lebt. Da ist es kaum verwunderlich, dass Adrianne in der Schule kaum soziale Kontakte knüpfen kann. Früh beginnt sie ihre Erfahrungen über Musik zu verarbeiten. Den ersten Song schreibt sie mit acht. "
Es ging darum, dass ich total wütend war. Dass es sich anfühlte, als läge die ganze Welt auf meinen Schultern
". Als sie zwölf ist, trennen sich die Eltern. Während die jüngeren Geschwister bei der Mutter bleiben, zieht Adrianne zu ihrem Vater. Der hat's nicht nur mit der Religion, sondern macht auch selber Musik. Als er von den musikalischen Gehversuchen seiner Tochter erfährt, sieht er Potential für eine frühe Karriere im Musikbusiness und beginnt sie zu vermarkten. Ein Teeniepopstar will Adrianne aber auf gar keinen Fall werden. Mit 16 Jahren sagt sich von ihrem Vater los und zieht schließlich von Zuhause aus. Mit einem Stipendium studiert sie am Berklee College of Music in Boston, anschließend zieht nach New York. Dort trifft sie auf den Gitarristen Buck Meek, der ebenfalls in Boston studiert hat. 2013 beginnen die beiden zusammen Musik zu machen und touren in einem gemieteten Van durch die Staaten. Während Lenker dem Folk-Fingerpicking verbunden ist, schrammelrockt Meek lieber vor sich hin. Live zieht er vor allem dadurch die Aufmerksamkeit auf sich, dass er wie elektrisiert zur Musik zuckt. Zum Duo stoßen Max Oleartchik am Bass und Jason Burger hinter den Trommeln hinzu, als Band gibt man sich den Namen Big Thief. Beim ersten Hören würde man den wohl eher im Rapbusiness verorten. Stattdessen macht das Quartett zumeist melancholischen Indie-Rock. Getragen wird die Musik von der sanften Stimme Lenkers, die in manchen Momenten kaum mehr als ein Hauchen ist. Sie ist auch die alleinige Songschreiberin. Ihre schwierige Kindheit, die sie etwa in "Mythological Beauty" verarbeitet, bleibt dabei eine der Hauptinspirationsquellen. Die Songs von Big Thief schaffen es, eine intime Atmosphäre zwischen Hörer und Band herzustellen. Wo könnte man da besser unterkommen, als bei Saddle Creek, dem Label, dessen Kopf kein Geringerer ist als Conor Oberst. Jener Musiker also, der seit Ende der 90er - erst mit Bright Eyes, später solo - wie kaum ein anderer für zelebrierte Melancholie steht. Beim Indielabel erscheint 2016 das Debütalbum mit dem durchaus großspurigen Namen "Masterpiece". Mit neuem Drummer (James Krivchenia) aber bekannten Qualitäten legen Big Thief 2017 "Capacity" nach. Beide Alben erhalten positive Kritiken und bringen der Band prominente Fans ein. Im darauffolgenden Jahr nimmt The National Big Thief mit auf Tour. Auch dies ist eine durchaus passende Kombination, sind beide Bands musikalisch doch auf ähnlich leisen Sohlen unterwegs. 2018 nimmt sich das Quartett eine kleinere Auszeit. Adrianne Lenker veröffentlicht mit "Abysskiss" ein Soloalbum, das noch einmal eine Spur ruhiger und träumerischer klingt als die Musik von Big Thief. Und auch Buck Meek ist auf eigenen Pfaden unterwegs. Mit Schrammelgitarre und texanischem Akzent hat sein Album einen deutlichen Country-Touch. Als Band wechselt man zum renommierten britischen Indie-Label 4AD. Das dritte Album der Band "UFOF" erscheint im Mai 2019, das vierte, "Two Hands", kein halbes Jahr später. Dass es Dinge gibt, die sich der eigenen Vorstellung entziehen, macht Big Thief keine Angst. Das F hinter dem unbekannten Flugobjekt steht für Freund. "
Sich mit dem Unbekannten anfreunden. Darum geht es in unseren Songs
."
© Laut
Weiterlesen
Ähnliche Künstler