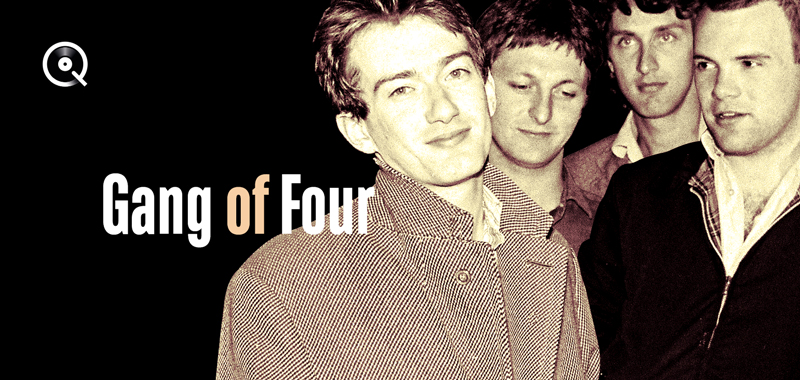 Unlimited Streaming
Enjoy this playlist on Qobuz apps with your subscription
Subscribe
Enjoy this playlist on Qobuz apps with your subscription
With the death of Andy Gill on 1 February 2020, a whole part of post-punk history comes to an end. A founding member and guitarist of Gang of Four, he and his band have gone through all the eras. Although they may have never regained the success of their beginnings, notably the albums "Entertainment!" (1979) and "Solid Gold" and their first hits "Damaged Goo...
See more
You are currently listening to samples.
Listen to over 70 million songs with an unlimited streaming plan.
Listen to this playlist and more than 70 million songs with our unlimited streaming plans.
1 month free, then £14,99/ month
About Playlist
With the death of Andy Gill on 1 February 2020, a whole part of post-punk history comes to an end. A founding member and guitarist of Gang of Four, he and his band have gone through all the eras. Although they may have never regained the success of their beginnings, notably the albums "Entertainment!" (1979) and "Solid Gold" and their first hits "Damaged Goods" or "Natural's Not In It", Gang Of Four, a band of variable geometry whose only singer Jon stayed with Andy Gill until 2012, always remained true to themselves and their lyrical punk rock, and committed all the way to the end.

Photo: Andy Gill, Dave Allen, Jon King, Hugo Burnham (Photo by Virginia Turbett/Redferns)
40 Years of Post-punk in 10 Albums
In the twilight of the '70s, as the shrapnel of the punk explosion was still settling, the movement was already inspiring new groups. As New Wave unfurled, the post-punk movement represented a tortured, even radical turn. From pioneers Joy Division and The Fall to current bands Shame and Fontaines D.C., here's a close-up on the landmark albums that electrified the entire music world and continue to fascinate the rock'n'roll underground.
The Fall – Grotesque (1980)
Faced with the commitment of the Clash, the nihilism of the Sex Pistols and the austerity of Joy Division, Mark E. Smith chose otherwise… The mastermind of The Fall injected a wonderfully unhealthy vision and atonal musical flavors into the British post-punk scene. Grotesque (After the Gramme) draws an improbable line between the Velvet Underground, Captain Beefheart, the Stranglers and tons of other disparate influences. But this real/false amalgam, this uncategorizable arty tinkering, creates a jagged but undeniable unity that Smith's slurred, snarling vocals and shocking, unbridled lyrics make utterly unique. Spoken word, psychedelic keyboards, anorexic rockabilly, folk dub, chloroformed bass, minimalist punk – anything and everything goes! This freaky œuvre, created by a kind of drunken James Joyce, would find its echo in the music of Stephen Malkmus of Pavement and James Murphy of LCD Soundsystem or, closer to home, Girl Band, Shame, Fat White Family and Fontaines D.C.

Interpol – Turn On the Bright Lights (2002)
Brooklyn wasn't the first 'hood' you'd have expected to incubate a potential post-punk revival… but there, across the East River from Manhattan, is where Paul Banks' band invoked the ghost of Joy Division and their coevals at the dawn of the new millennium. Except in the case of Interpol, these masters of post-punk could also play shoegaze à la My Bloody Valentine. An impeccable, cathartic debut album with a dark-hued urban aesthetic, Turn On the Bright Lights is, however, no name-dropping rock critic's wet dream. Like the Strokes, who were conquering the Big Apple at the same electric moment, Banks and his black-clad nighttime accomplices may have known their classics inside-out, but they were especially skilled at rewiring their dark tensions with originality to make them in tune with the times. Darn right, this Interpol debut sounds like 2002, not 1979! That's what made it so original, and ultimately a reference point and influence for bands to come including the Killers, The xx, and Editors.
Girl Band – Holding Hands With Jamie (2015)
On September 25, 2015, no one could have imagined for a second that Holding Hands With Jamie, concocted by a gang of obscure Dubliners, would kick off the post-punk revival. But make no mistake, without them, Girl Band, Shame and Fontaines D.C. would still be playing with their Lego sets today… Even more so since at the moment that debut was released, post-punk was snoozing peacefully in the basement of rock'n'roll history, with few if any young groups claiming the legacy of Mark E. Smith. Led by charismatic singer Dara Kiely, flanked by guitarist Alan Duggan, bassist Daniel Fox and drummer Adam Faulkner, Girl Band, (self-described as "a sh*t version of the Strokes") Girl Band served up veryveryvery angular rock in the macabre and enthralling post-punk spirit of The Fall and Liars… More radical than the followers mentioned above, they're enthrallingly aggressive and hypnotically repetitive, with an impressive ability to create their own musical world, like a crumpled Polaroid of the zeitgeist. Not for the faint of heart...

Shame – Songs of Praise (2018)
As taut as an XS thong strapped over an XL booty, Shame is not kiddin' around. And the focused post-punk at the heart of the debut album by this London quintet impresses with its charisma, ferocity and originality. Songs of Praise rings out like the soundtrack of an England that is growly, frustrated and absolutely on red alert. Plenty of echoes of The Fall, Gang Of Four and Killing Joke in this ball of musical anxiety, without the slightest suggestion of it sounding retro or backward-looking. Like Fat White Family, Ought and Vietnam, Shame are alive and kicking in 2018 – and that is loud and clear! Straight outta Brixton, singer Charlie Steen, guitarists Sean Coyle-Smith and Eddie Green, drummer Charlie Forbes and bassist Josh Finerty fuse their frayed nerves into a visceral sound and songs that are alternately punchy (Dust on Trial), venomous, lacerating (The Lick) but also appealing (One Rizla). Unabashed and unadulterated, Shame rock without apology. Listening to them is a body-blow, one that leaves you wanting more.
Fontaines D.C. – Dogrel
(2019)
Barely delivered from Shame's
Songs of Praise
, the eye of the rock'n'roll hurricane shifts northward, to Dublin. There, an equally nasty crew of lads named
Fontaines D.C.
are gritting their teeth to show that the post-punk revival still has a few slaps, swings, uppercuts and haymakers to serve up. If the debut album by
Fontaines D.C.
,
Dogrel
, is rooted in well-known soil (The Fall, Joy Division, Gang Of Four, Public Image Ltd.), the fertilizer is different. First, there is the Irish singularity of an album mourning a postcard Dublin eradicated by globalization and gentrification.
Dogrel
ends with
Dublin City Sky
, an acoustic ballad redolent of an old pub, a freshly pulled Guinness, and that you might think had just come skirling off an album by the
Pogues
, their favorite group. Singer
Grian Chatten
's band also has the distinction of venerating literature and poetry as much as rock'n'roll and folk music. Hence the permanent sensation of listening to a burst of pure post-punk – and intelligent – protest. That is the strength of
Dogrel
. To be literate without showboating. Angry, annoyed and always audible. In the hit
Big
, Chatten roars "
My childhood was small, but I'm gonna be big
". Big,
Fontaines D.C
.
are likely to become!
Go on the Qobuz apps to read the full article...
Join Qobuz to read the full article...
Read more on Qobuz

Why buy on Qobuz...
Stream or download your music

Buy an album or an individual track. Or listen to our entire catalogue with our high-quality unlimited streaming subscriptions.

Zero DRM

The downloaded files belong to you, without any usage limit. You can download them as many times as you like.

Choose the format best suited for you

Download your purchases in a wide variety of formats (FLAC, ALAC, WAV, AIFF...) depending on your needs.

Listen to your purchases on our apps

Download the Qobuz apps for smartphones, tablets and computers, and listen to your purchases wherever you go.