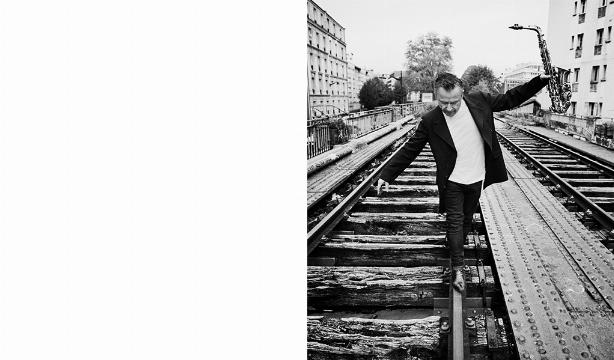 Pierrick Pédron is one of the best alto saxophonists in French Jazz, he is also a talented composer with a very open musical universe. Permanently on the move, he is never there where we expect him, often changing direction musically but always staying on the course of innovation, of instrumental discipline and the pleasure of playing to make his music heard by the greatest number. He has been a must since 2001, the date of his first recording as leader and when he conceived the alto saxophone « Référence » for the firm of Selmer. In September 2017, he will release his ninth album as leader with Greg Hutchinson, Carl-Henri Morisset and Thomas Bramerie.
Pierrick Pédron was born on the 23rd of April 1969 in Saint-Brieuc, he started in music on the alto saxophone at the age of 7. His teacher was the accordionist Georges Gouault was to play a great role in his musical education. Then he was introduced rapidly to the stage playing from the age of 9 in the popular balls of his native Brittany. He discovered Jazz at 16 and concerts with this project (almost 150) and undertook a tour with the presence of Mulgrew Miller. In 2006, Pierrick Pédron played in the double bassist Jacques Vidal's septet, they recorded the album 'Mingus Spirit » with notably the presence of the American trumpeter Eddie Henderson. Then followed a period of reflection : Pierrick Pédron was not going to rest on his laurels, and in 2009 performed a 180° U-turn with an ambitious album called « Omry », where he abandoned classic Jazz for a unique fusion between Pop Music and Jazz, with original compositions which render hommage at the same time to the Pop Music of Pink Floyd and Egyptian singer Oum Kalsoum ! The arrangements were signed by the pianist Laurent Coq who shared the keytboards with Eric Legnini, there was also the presence of the Belgian guitarist Chris de Pauw, the bassist Vincent Artaud and two drummers : Franck Agulhon and Fabrice Moreau.The production work was fascinating and quite innovative in the Jazz world, it disconcerted certain fans of the early days though it would convince a younger and more open-minded public. In 2010, Pierrick continued to work with Jacques Vidal, but this time in quintet form where he took part in the recording of « Fables of Mingus », then he signed the following year with the Act label and continued his Pop experiment that was initiated by « Omry » with « Cheerleaders », where we hear can hear the impressive production work of Ludovic Bource and the sound engineer Jean Lamoot. This conceptual album mixed Jazz, Pop and Psychedelia, it was based on the story of a majorette through nine key episodes of her life. The same sextet is found as on « Omry » accompanied by a fanfare of seventeen brass instruments and a six-voice choir.
In 2012, Pierrick returned clearly to the Jazz- Bop he loves so much in an acrobatic formula The record was entitled « Cherokee », it came out in 2001 and as its title indicates, Pierrick Pédron's playing was inspired by Charlie Parker while also breaking away from it, to propose a personal universe on several compositions. He was chosen at the same time to conceive the alto saxophone « Référence » which would be commercialised in 2003. He formed a new quartet and also played in a duo with Michel Grailler as well as with the Belmondo brothers. In 2004, Pierrick Pédron signed with Yann Martin's Nocturne label and recorded his second album : « Classical Faces » with his quartet (Pierre de Bethmann, Vincent Artaud and Franck Agulhon) which was transformed into a sextet (with the addition of Magic Malik and Thomas Savy) on several tracks as well as on tour. The album opened with a homage to Pink Floyd called Pink and Pierrick often had fun abandoning the wild Bebop rhythms of Cherokee for an impressionistic world, with poetic tones. The record was well-received by critics (« disque d'émoi » Jazz Magazine, the Charles Cros Prize, fff Télérama). Then, Pierrick Pédron played with the Paris Jazz Big band and appeared in the Wynton Marsalis Big Band in Marciac. In February 2005, he made a record with the English pianist Gordon Beck at a Paris concert (« Seven Steps to Heaven »). He returned to New York in 2005,where he recorded, with the pianist Mulgrew Miller, the double-bassist Thomas Bramerie and the drummer Lewis Nash, a record of standards entitled « Deep in a Dream » (« Shock of the Year 2006 » Jazzman, « Disque d'Emoi of the Year » for Jazz Magazine, double prize from the Jazz Academy). This was he album of recognition, from the critics' point of view as well as the public's. The record sold well (more than 6000 copies in just a few months) and allowed him to become known to a greater public and to become a key actor on the French Jazz stage. He would give many without piano,in a trio (with Franck Agulhon, Thomas Bramerie). The album which was called « Kubik's Monk » revisits exclusively compositions by Thelonious Monk certain of which are rarely played. A distinguished guest can be found on three tracks : the American trumpeter Ambrose Akinmiusire. The record received a very good critical reception and it was rewarded with the French record prize from the Jazz Academy.
In 2014, still for Act, Pierrick Pédron went back to the trio formula this time to offer jazz arrangements of songs from the Rock group of the 1980s and 1990s : The Cure. The album « Kubik's Cure » was a new stage in Pierrick Pédron's unique approach to synthesising all the kinds of music he likes, infusing it with the special sound of his alto saxophone and an arrangement with Jazz rythyms.As guests we find leading personalities of French Jazz such as Médéric Collignon and Thomas de Pourquery. In the same year of 2014, he contributed to the album « My Chet, My Song » by Ricardo del Fra in homage to Chet Baker as well as to « Cuernavaca » by Jacques Vidal around the music of Charlie Mingus. In the autumn of 2015 Pierrick Pédron's new eighth album came out and once more, he surprised us with a Groove and Funk project with talented musicians little-known in France who came from all over Europe. Music both complex and danceable that Quincy Jones or the Brecker Brothers would not have disowned. The artistic direction was providedby the faithful Vincent Artaud while special care of the sound and mixing was provided (over a period of eighteen months) by the brilliant magician Manu Gallet whose sound tricks sometimes remind us of the work of Teo Macero.
In December 2016, he recorded UNKNOWN in a quartet with Greg Hutchinson, Carl-Henri Morisset and Thomas Bramerie. Laurent de Wilde was the Artistic Director. The record will be released in September 2017.
Since 2017, Pierrick Pédron has been regularly performing and recording in Japan. He is often invited by the pianist Yutaka Shiina (Elvin Jones, Jazz Machine).
For his 50th birthday, Pierrick wanted to rise to the occasion. With the help from the producer and friend Daniel Yvinec, he decided to record within that very special year not one, but two albums that would encapsulate all his musician's desires.
Carefully thought out, the rhythm section of the 1st album Fifty/Fifty New York Sessions is a completely new combination of undisputed masters of their art, with Sullivan Fortner on piano, Larry Grenadier on double bass, Marcus Gilmore on drums.
For the 2nd album Fifty/Fifty 2 Paris Sessions, to be released in the fall of 2021, Pierrick Pedron and David Yvinec have been looking for some new talents from the young French scene with Malo Mazurié on trumpet, Elie Martin-Charrière on drums and Thibault Gomez on keyboards.
Read more
Similar artists