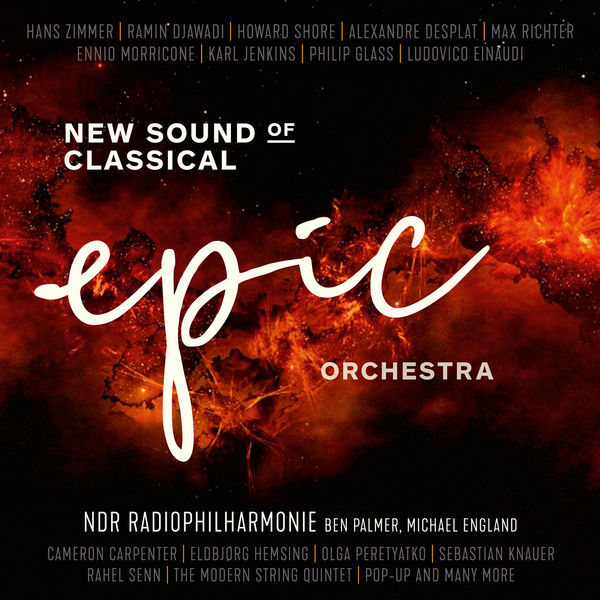 NDR Radiophilharmonie - Epic Orchestra - New Sound of Classical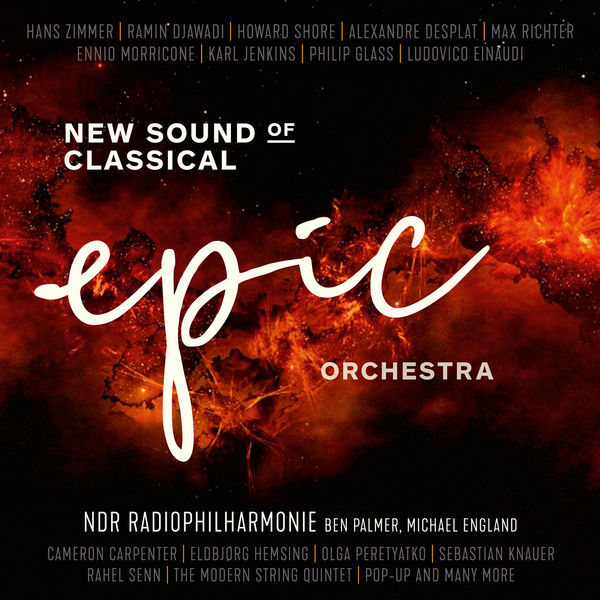 Mes favoris
Cet élément a bien été ajouté / retiré de vos favoris.
Epic Orchestra - New Sound of Classical
NDR Radiophilharmonie
Available in
Unlimited Streaming
Streaming available in 22 days
Digital Download
Select Audio Quality
Epic Orchestra - New Sound of Classical
NDR Radiophilharmonie
I already downloaded Qobuz for Windows / MacOS
Open
---
I have not downloaded Qobuz for Windows / MacOS yet
Download the Qobuz app
Listen on Webplayer
You are currently listening to samples.
Listen to over 40 million songs with an unlimited streaming plan.
Download this album for unlimited listening.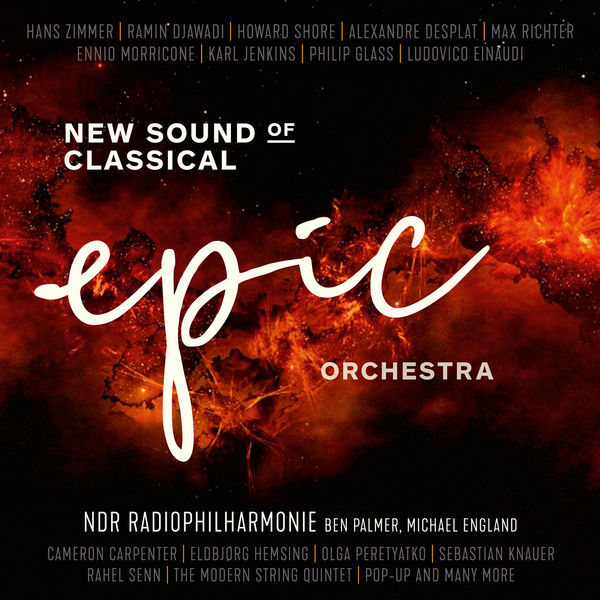 Interstellar Cornfield Chase
00:02:09
Advantage Points
00:03:43
The Lord of the Rings: The Council of Elrond "Aniron" (Theme for Aragorn and Arwen)
00:04:23
Palladio: I. Allegretto
00:03:49
The Imitation Game
00:02:36
A Lannister Always Pays His Debts
00:02:53
Once Upon a Time in the West
00:03:22
String Quartet No. 3, "Mishima": VI. Mishima / Closing
00:02:56
Tristia für Streichorchester
00:05:24
Come In!: IV. Movement
00:05:31
The Four Seasons Recomposed: Spring I
00:02:35
I giorni: Andante
00:06:04
About the album
1 disc(s) - 14 track(s)
Total length:

00:52:41
(P) 2020 Sony Music Entertainment Germany GmbH
Improve this page

Why buy on Qobuz...
Stream or download your music

Buy an album or an individual track. Or listen to our entire catalogue with our high-quality unlimited streaming subscriptions.

Zero DRM

The downloaded files belong to you, without any usage limit. You can download them as many times as you like.

Choose the format best suited for you

Download your purchases in a wide variety of formats (FLAC, ALAC, WAV, AIFF...) depending on your needs.

Listen to your purchases on our apps

Download the Qobuz apps for smartphones, tablets and computers, and listen to your purchases wherever you go.
The Paradox of Esa-Pekka Salonen's Studio
In France this summer for the Rencontres musicales d'Évian, where he conducted the Symphonic Orchestra of La Grange au Lac, Finnish acclaimed conductor and prolific composer of over 60 albums, Esa-Pekka Salonen discusses his unique approach to working on classical music in studio.
Danny Elfman in Ten Albums
From fairy tales to wacky comedies, from the most extraordinary orchestral works to understated pieces, for almost forty years now Danny Elfman has been crafting his unique sound and injecting it into Hollywood productions by the likes of Tim Burton or Gus Van Sant. We look back over ten albums from his career, exploring both his essential works and less well-known compositions.
Julius Katchen: 50 Shades of Brahms
It may seem like every pianist alive today has tried their hand at Brahms - especially his last opuses from 116 to 119. But this hasn't always been the case. Having started recording Brahms for Decca Records in 1962, the American pianist Julius Katchen was the first to complete the German composer's entire piano works. Ten years later, the German pianist Peter Rösel followed in his footsteps, as well as a dozen or so others more recently.