2022 was spaned by a lot of interesting releases for the metal genre as a whole, but one record caught our attention more than any other. When Megadeth unveiled their single 'We'll Be Back' in June, a ripple of excitement spread among fans. All eyes were instantly set upon their album, The Sick, The Dying... And The Dead!, and rightly so: the Americans' newest offering is steeped in excellence and is surely one of the best albums of 2022 on Qobuz. We look back on this record with Kiko Loureiro (guitar), formerly a member of Angra, who has now been part of the quartet for 8 years.
The Sick, the Dying… and the Dead has a very strong cinematic feel. Was this intentional?
I don't think people are aware of this, but all of us in Megadeth are huge movie lovers (laughs). But I'm very happy to hear that because, from my end, that was definitely a clear objective: to give the listener the same feelings they would get listening to a movie soundtrack. Instrumental music is the ultimate gateway to the imagination. We are really inspired by these feelings when we watch movies together. When you create music, you're constantly visualizing images, and these will indelibly be grafted onto whatever you compose. You want to turn all the landscapes, the valleys etc., that you 'see' into sound. In the end, it's a pretty instinctive thing, so it's got to be done quickly if you want to get it right.
Between its introduction, the classical guitar bridge and the overall look of the song, the opening track is a very good representation of what you've just explained. There is a very striking sense of immediacy.
During the writing and recording of the album, we spent a lot of time debriefing movies we'd seen, or watching them together. It's pretty interesting because Dave, like a lot of Americans in the business, knows a little bit about what goes on backstage in Hollywood, so he has a very different perspective than I do on what we watch, and our visions complement each other. To go back to what you were saying, the classical guitar parts in The Sick, The Dying...And The Dead! are inspired by spy movies. I try to play like I'm some sort of Brazilian spy (smiles). The thing is, that's how I see it personally, but if you talk to Dave about classical guitar and Hispanic or Portuguese vibes, he'll think of Clint Eastwood and westerns.
So two quite different universes that end up inhabiting the same space?
Exactly! I imagine you can easily visualize some of those iconic shots in western cinema where Clint is standing in the desert facing an enemy, and the tension will be rising... That's often thanks to the exceptional work of the music. The guys are about to shoot each other and you have these very Hispanic guitar patterns that complete the mood. There's also a difference between that and the Italian western, which might have a more Ennio Morricone-influenced sound world. We talk a lot about all this in the studio and get a lot of inspiration from it. We watch and talk a lot about movies.
At the beginning of the album, the phrase "Bring Out Your Dead!" is chanted. Is that a reference to Monty Python?
I think that's one of Dave's misdeeds so it's going to be hard to talk about it in detail (laughs). But yeah, that was definitely the idea. Since we're talking about cinema, this sentence is the first step the listener takes in the album. We also wanted it to sound really 'English', so we asked a friend from England to record the sentence with the best accent possible. Dave could have done it, but with his American accent, it would have been weird and a bit 'illegitimate' (laughs).I only knew Megadeth as a fan or teacher, I had to understand the ins and outs as a band memberI only knew Megadeth as a fan or teacher, I had to understand the ins and outs as a band member
I only knew Megadeth as a fan or teacher, when I joined I had to understand the ins and outs as a band member...
We really feel a difference between this and Dystopia, your previous album. This new record seems to break free of certain limits.
We've gotten to know each other a lot since that first album together. When I joined Megadeth at that time, the band was already in the studio. I only knew Megadeth as a fan or as a teacher, so I had to understand the ins and outs of the band as a member. I was really able to appreciate what it meant to play certain songs live, for example, and what it meant to the fans who have been following Dave for years, and the responsibility of capturing it in a certain way. The Kiko of Dystopia was one who'd just been discovered; one who had seen Megadeth live, but hadn't actually played with them. Once we all knew each other, I felt freer to bring ideas to Dave and talk about them...
You are rather modest about your involvement in Dystopia...
(laughs) I think Dystopia is a great album, but Dave and I had only been working together for two or three weeks at most. After several years of touring, let's just say that maybe I feel more legitimate. I've gained an intimacy with the Megadeth catalogue that I didn't have, and I think I have a little bit more of a grasp on what we need or don't need. It's funny to talk about it because I was thinking about it recently. I've been to so many countries with Megadeth, and I can't remember a time when I had any difficulty with anything. Whether it was the fans, Dave, the crew that follows us, I was immediately put in a great position to really express myself as a member of the band. I think without all of that, I wouldn't have been able to bring ideas for 'We'll Be Back' or 'Celebutante' to the table.
We didn't know you were the brain behind those two songs! Would you say that this new album is more complex than its predecessor?
Absolutely. There are a lot of faster tracks, like 'We'll Be Back' that I mentioned just now. It quickly became obvious that it was going to be a lot more complicated to play them live than I had anticipated. There are also more songs with acoustic passages. Not that they're complicated, but there are moments during which the organisation has to be flawless so that everything runs smoothly on stage. It's a technical challenge in terms of my abilities, my equipment and my organization. I imagine you know AC/DC pretty well with that t-shirt you're wearing, so I'm sure you know how hard it can be to play fast and powerful songs in big halls or stadiums. Finding solutions to these potential problems was a challenge for us with this album.
The other big challenge was unfortunately Dave's illness, which disrupted the recording process. Did the album change a lot from those initial ideas to what it is today?
It's hard for me to talk about it, because what Dave would say to you might be different. I remember we were supposed to meet in Nashville in the summer of 2019 to record the album. Everything was arranged, plane tickets were booked, and he called me to tell me he was sick and needed treatment. I thought that everything would be postponed (silence), but no, he told me right away that we would still record the album, that he would be undergoing chemotherapy at the same time. So everything was done during his treatment! The very act of recording The Sick, The Dying...And The Dead! was an important part of the recovery process. Everything could have been very different if Dave had waited until he was better to do it. After that, I have no idea how hard it was for him, I've never had to go through anything like that.
It must have been 'impressive' to see him struggle and thrive like that and to be by his side during such a terrible time.
I remember that we were recording for a day, and the next day he was undergoing treatment. That was how things were organised. He's really very strong. It was pretty amazing to hear him sing for example. When I remember that period, I am really in awe.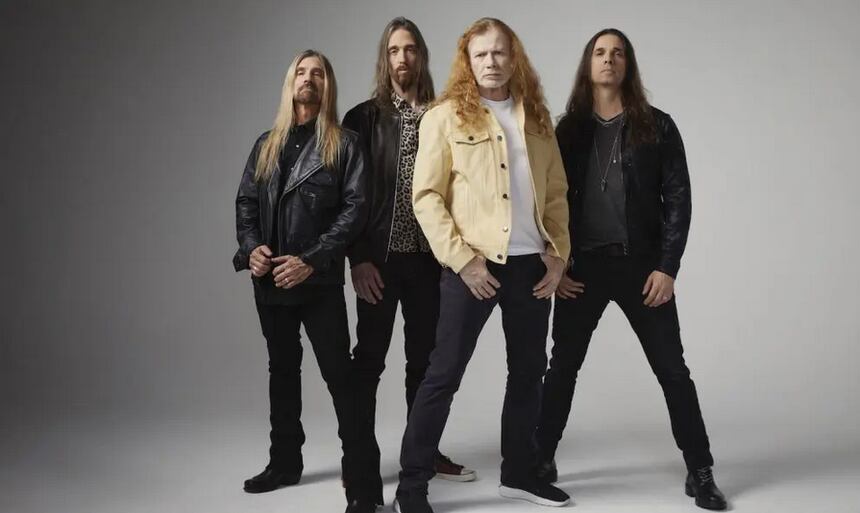 The reactions of the fans around the first single 'We'll Be Back' were incredible. It had been a long time since Megadeth had generated that much hype. How did you feel about it?
It was pretty frustrating to keep it all to ourselves for months (laughs). So when the single came out, it was already a release for us. You have to understand one thing, because of the pandemic, I couldn't travel for a very very long time. So the recording of the album was postponed indefinitely. Only the drum parts were recorded at the end of 2019. I didn't get to record my guitars in Nashville until much later. But it wasn't finished, and just when I thought I was 'in the clear', I had to record a few more solos from my home studio. Then it was time to tour, and the album was mixed and mastered. In the meantime, James LoMenzo (bass) came back to the band, and finally we had to do the European festival tour in the summer of 2022… and the album still hadn't been released at that point.
Do we sense a bit of frustration?
Totally! Normally the period between recording and release is not that long but that allows you to confirm the feelings you have about an album during the recording process. When I was working on the record, I felt like we were doing a good job, but I had no way of getting any confirmation. I mentioned James earlier in the interview, and as you know, he didn't record on the album, but my first time listening to the finished version was with him!
When we saw you and James playing live during the two Hellfests of 2022, we were amazed to see the cohesion between the two of you. We understand better where it comes from now.
This guy is a real pro! I love hanging out with him both on and off stage. We hit it off very quickly. You know, I have an interesting theory about bass players (laughs). The instrument is a glue, it's the instrument that binds all the other instruments together to make a solid, unshakeable base. And strangely enough, all the bass players I know have a personality very close to what the bass embodies. James is the best example of what I'm talking about here. His experience as a professional is also impressive. He has played with Slash, Zakk Wylde, David Lee Roth etc. In short, whether it's telling legendary stories, providing advice or just being a friend, I'm very happy to have him on board with us in Megadeth. I can't wait to go on tour with him again.