A network player can be connected either through a wireless (Wi-Fi) or physical connection (with an Ethernet cable). It can also remain connected only to your local network, in which case it will access your library of audio files, stored on a computer or a networked hard drive. In that case, it will only play back files you've ripped from CDs yourself or files bought online.
By connecting the network player to the Internet, listeners gain access to tens of millions of tracks - for example through streaming services, i.e Qobuz. No longer limited to a personal collection, anyone can now enjoy High-Res quality, the step above CD quality. Network players offer a digital output to connect your external DAC, as well as analog outputs so you can connect to a preamp or an integrated amplifier.
Some of these network players have a touchscreen interface to make things easier; all of them have a mobile app, making it easy to choose which audio sources you want to use: local libraries, streaming services, web radios, etc. In the end, the app is the constant link to digital music; its ease of access should play into your final purchase.


1. Triangle AIO C : Discreetlly Transitioning to Network Players
Caracteristics :
Price : 139 €
Features : Wi-fi N, Ethernet, Qobuz, UPnP/DLNA, analog minijack and digital/optical.
Triangle revealed their first smart connected products a few months ago. Besides a wireless speaker, the AIO 3, they also showed off their wireless network player, the AIO C. They both use the same application, which means you can group them through multiroom. The AIO 3 speaker is compatible with Qobuz Hi-Res, but the network player is limited to CD quality.
Its inputs and ouputs are simple and effective. One optical output, to connect to a DAC, one analog minijack output to connect directly to an amplifier or even a pair of active speakers. Triangle also includes two cables: one 3,5mm to RCA, and one 3,5mm to 3,5mm. The AIO C's biggest strength is its size, which makes it easy to hide.

THE GOOD
Doesn't take up space
Two outputs
Very reasonable price


THE BAD
No Hi-Res
No front-facing buttons
Limited file formats


2. Advance Paris WTX Microstream Pro: Hi-Res playback at a discount
Caracteristics :
Price : 289 €
Features : Wi-fi N, Ethernet, Hi-Res Qobuz, UPnP/DLNA, RCA input/output, digital optical/coaxial outputs, USB port
Advance Paris seem to enjoy making products in unconvential sizes. The WTX Microstream Pro will connect to any existing Hi-Fi system without taking up too much room. The front display lets you know which source is active, since the player has an analog input and optional Bluetooth, which you can acquire by purchasing a dongle.
The Microstream Pro also has a USB port to read files stored on a key. When it comes to streaming, it can access webradios and use Qobuz in Hi-Res. The conversion part is handled by a Wolfson WM8740 chip. Alternatively, you can use one of the two digital outputs to connect to an external DAC. It's a well-rounded product at an attractive price.

THE GOOD
Hi-Res
Remote control
Wide array of inputs/outputs


THE BAD
No display
Bluetooth only thru dongle
Limited network connectivity


3. Sonos Connect : One of the oldest network players - yet, still relevant.
Caracteristics :
Price : 399 €
Features : Wi-fi, Ethernet, Qobuz, UPnP/DLNA, analog input/output, digital optical/coaxial outputs, Sonos multiroom
The Sonos Connect wasn't the first network player to hit the market, but it isn't far. Since its inception nearly 15 years ago, it hasn't aged a bit, thanks to the continuous updates from Sonos. This means it can use Qobuz (not in Hi-Res unfortunately). Produced in an era when Hi-Res was still in its infancy, the Sonos Connect only goes to 48 kHz. It works independently of course, connected to an amplifier, a DAC or a multiroom system with other Sonos products.
The Sonos Connect can access multiple digital sources: streaming services, local network sharing, webradios and podcasts. The mobile app is a model of its kind. The analog aux input can be used to stream with Connect towards other Sonos players in your household. However its price seems a bit high these days.

THE GOOD
Ease of use
Shared aux input
Sonos multiroom ecosystem


THE BAD
No Hi-Res
No Bluetooth
On the pricey side


4. Yamaha MusicCast WXC-50 : A Network Player, and a Preamp as well
Caracteristics :
Price : 399 €
Features : Wifi N, Ethernet, Bluetooth, Hi-Res Qobuz, UpnP/DLNA, analog + digital inputs/outputs, sub output, USB ports, AirPlay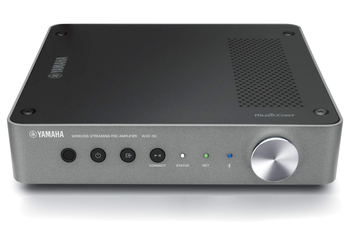 Network capabilities have become commonplace in Yamaha products of all types, from sound bars to home cinema amplifiers. The pure network player part is handled by the WXC-50. Equipped with multiple connection possibilities, it's still very compact. You can also put it flat on its face or on the side to take up less space.
The WXC-50 has two inputs for aux sources: one analog, and one optical. The analog and digital outputs can be configured for a player mode or a preamp mode. In one case, the volume is handled by the amp to which you plug in the Yamaha network player, in the other case, the network player handles the volume. This is a particularly useful feature that allows the user to choose how to interact with the product over time.

THE GOOD
Hi-Res
Network player and preamp
Many connections possible


THE BAD
Mobile app is secondary
AirPlay 1 only
No Chromecast Audio


5. Paradigm PW Link :A Network Player with Integrated Audio Calibration f
Caracteristics : Price : 499 € Features : Wi-fi N, Ethernet, Qobuz Hi-Res, UpnP/DLNA, analog input/output, digital inputs/ouputs, DTS Play-Fi
It's small enough to be hidden or racked somewhere discreet. Paradigm's Network Player from its Premium Wireless line of products. Equipped with DTS Play-Fi and going up to 192 kHz/24 bits, it can read Hi-Res Qobuz. From the connection side of things, it has two inputs and two outputs, two analog, two digital.
Where it stands out is its integrated audio calibration system - ARC, for short. Developed by Anthem, the sister brand in the group, ARC is usually used in home cinema amplifiers. Thanks to the optional mic, it will adapt the PW Link's sound to the speakers and the room being used. This is a huge plus for those looking for premium audio restitution.

THE GOOD
Hi-Res
ARC Audio Calibration
Analog inputs/outputs


THE BAD
No Bluetooth
No display
No Chromecast or AirPlay


6. Bluesound Node 2i : For Hi-Res, premium multiroom
Caracteristics :
Price : 549 €
Features : AC Wi-fi, Ethernet, Bluetooth, Hi-Res Qobuz, analog input/output, digital input/output, BluOS, AirPlay 2
Bluesound recently updated their wireless audio products to the 2i version. This grants them new features. Unfortunately, the previous versions aren't powerful enough to be able to handle these same updates.The Node 2i remains the product line's Network Player. Its appearance is the same: flat, with buttons on top.
The Node 2i is Hi-Res compatible thanks to its proprietary BluOS streaming protocol. Bluesound gave it AirPlay 2, Apple's system, for more universality. Two-way bluetooth is unheard of on this type of product. On one hand, you can transmit music fro your phone; on the other, the Node 2i sends the music wirelessly to a paired Bluetooth headset. Very convenient.

THE GOOD
Hi-Res
Two-way Bluetooth
AirPlay 2


THE BAD
No DLNA/UPnP
No Chromecast Audio
Previous versions are update locked



7. Cocktail Audio N15D: A Network Player? More like a Mini Audio Server
Caracteristics :
Price : 649 € Features: Ethernet, Hi-Res Qobuz , UPnP/DLNA, analog/digital outputs, DAC ,USB ports, hard drive rack, AirPlay
Slowly but surely, Cocktail Audio has made a name for themselves in the digital audio world. The brand sells compact audiophile products that hit the mark. The N15D network player only has an ethernet connection -no Wi-Fi. Bluetooth isn't included either.
The N15D can read all Hi-Res files up to 384 kHz as well as DSD128. Three audio outputs are available: analog RCA, digital optical and coaxial. No inputs are available except a USB if you want to use your PC as a DAC. Cocktail Audio also has drawer to insert a hard drive if you want to store your musical library and thus avoid using any network servers.

THE GOOD
Hi-Res 384 kHz/32-bit
Emplacement pour disque dur
DAC USB intégré


THE BAD
No wi-fi
Limited network connectivity
Dated mobile app


8. Roon Nucleus : Four Network Players on one server
Caracteristics :
Price : 1 800 €
Features: Ethernet, Hi-Res Qobuz, UPnP/DLNA, 3 USB ports, one HDMI port, a hard drive slot, AirPlay compatibility, Chromecast, Sonos
The Nucleus is the core to any Roon system. It can stock your musical library internally thanks to its hard drive slot. This multiroom audio distribution solution is compatible with all file types up to high resolution. When it comes to streaming services, Qobuz in Hi-Res is integrated.
There is no analog output. You'll have to couple the Nucleus with a DAC to enjoy its audio player capabilities. And even with several DACs if need be, since the Nuclear is a quadruple Network Player: Two USB 3.0 ports, one USB-C output, and an HDMI output. Its features are limited to Roon, but having 4 network players in a single box is a big plus.

THE GOOD
Ultra Hi-Res PCM/DSD/MQA
Quadruple lecteur
Fonction serveur


THE BAD
No Wi-Fi
No Bluetooth
No buttons or display


9. Auralic Aries G1: A network player for audiophiles
Caracteristics :
Price : 2 199 €
Features : Wi-fi, Ethernet, Bluetooth, Hi-Res Qobuz, USB outputs, coaxial, optical, XLR AES, USB port, AirPlay
Auralic has a line of Hi-Fidelity products centered around digital playback. The Aries G1 network player is a newer version of the previous Aries modek, in a new aluminum case. Its capabilities are numerous, with playback up to 384 kHz or in DSD512. Hi-Res Qobuz is integrated. A USB port also allows you to plug in an external hard drive.
The front-facing screen displays what son is being played. Associated with the buttons on the right, it grants access to all the device's settings. Of course, you can always rely on the mobile app. The Aries G1 is celebrated by specialists and audiophiles worldwide. Which means this network player is often at the center of very high-end systems.

THE GOOD
Hi-Res 384 kHz/32-bit DSD512
Audiophile-ready
Doubles as a server


THE BAD
Interface is too small
Many settings - requires time to get the hang of it
Just needs Chromecast


10.Bryston BDP : The powerful, universal Network Player
Caracteristics :
Price : 3 999 €
Features : Ethernet, Hi-ResvQobuz, USB outs, coaxial BNC, XLR AES, multiple USB ports
The Canadian manufacturer Bryston rarely does things the usual way when it comes to Hi-Fi. Case in point, the twenty year warranty on its amplifiers. For its audiophile network player, Bryston integrated a silent PC, running under Linux. With 8 GB of RAM, the aim is to avoid any latency during playback, even for Hi-Res files.
The BDP-3 can read files via network but also those that are stored on one or several hard drives, connected directly through USB. On that topic, ports aren't what's missing. Playback is ensured up to 385 kHz and in DSD128. Hi-Res Qobuz compatibility is a given. No analog outputs, but digital outs and HDMI, BNC and XLR.

THE GOOD
Hi-Res 384 kHz/32-bit DSD128
Linux platform with 8 GB of RAM
USB ports for hard drives


THE BAD
Optional Wi-Fi
No Bluetooth
Limited network connectivity



CONCLUSION
Adding access to network streams to your Hi-Fi system is now child's play. The market is full of different offers with solutions at all prices depending on your needs. And Hi-Res playback is no longer a feature reserved for high-end products. Some network players have inputs for external sources, others can be used as preamplifiers. It's up to you to see it the player will be directly linked to an power amplifier, to a preamp or a DAC. Not all the players have these three possibilities, so check closely before purchasing!
***

To stay up to date for everthing happening at Qobuz, follow us on Facebook !