Many Qobuz enthusiasts who are passionate about music, discovering music and discovering more about artists have been impatiently waiting for this announcement: Qobuz is finally integrated into Roon.

Roon is not just a smart player (compatible with several applications and various brands) that can quickly identify and list all the compatible music devices within the network in which it is installed, however they may be linked (internal to the system, USB, Airplay, or even Chromecast to name the most common). It is also a brilliant music referencing tool, like a sort of Musicapedia for the user.

In order to finish this article dedicated to Roon and Qobuz's integration into the tool, we would like to show you some screenshots for the Roon Remote mobile version (android), which allows you to use your smartphone as a remote control that can also display Roon from any computer on the network, as long as Roon is running.


-The Roon Remote home page.
- Part of the menu.
-The setup of the settings submenu.
-The online music services.
-Qobuz, new releases.
-Discover.
-The different accessible players (zones).
-Zone selection.
-Play history.

-Choosing from amongst history with playing options.
-The listening of a track selected from history.
-Choosing of a Qobuz album.
-Info on the album being played.
-Credits on the same album.
-Available versions of this album on Qobuz.
-Description of the album.
-Artists similar to Santana (virtuoso guitarists).
-Funk artists.
-The digital signal path from Qobuz to the Node 2, fully lossless Hi-Res.
We now invite you to take a look at a selection of screenshots highlighting the perks of this music player/browser you'll no doubt be addicted to soon and Qobuz's integration on the tool. It's enough to make your mouth water!

- Choosing of Roon core.

- Roon login page, pay for a yearly or lifetime license or create an account with a 15 day trial period for everyone.

- Connect to your Roon account.

- The three bars in the top left corner allow you to access the menu.

- Here we have chosen the "Settings - General" menu.

- Display of online music services.

- View of Qobuz content.

- Our environment which is particularly rich in music (playing) devices, the listing of these as well as the USB drives installed on our computers required several screenshots...

- We added the Bluesound Node 2 network player (called Bedroom) to Zones.

- By clicking on the small purple star located on the right of the played track, you can see the digital (signal) trajectory.
Here, the 24-Bit/96 kHz lossless signal goes from Qobuz to the audio output on the Node 2.

- The wealth of metadata deserves to be highlighted.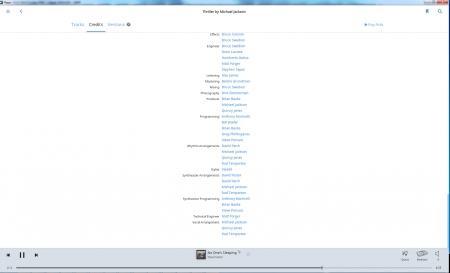 - Access to the PDF album booklet (yellow arrow). It will open on your system with your default PDF player.

- Focus on the albums categorised by musical genre.

- Configuration of a Zone.

- Available Zones.

- Changing the Zone (you can play two different tracks in two distinct zones).

- Choosing John Lennon's album (displayed in the playback window).

- Playback of John Lennon's album (pop/rock genre displayed on blue button, this is a link to albums of the same genre).

- Result of following the link to the pop/rock albums.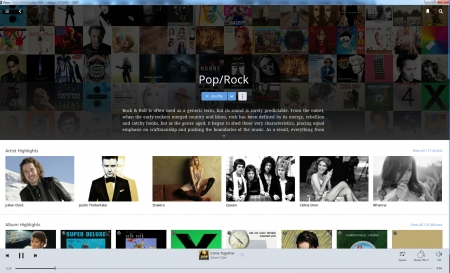 - Selecting the band Queen.

- Events relative to Queen and three principal albums.

-The band's albums and singles

- Albums similar to those of Queen.

- Playback of a track on a Queen album with lyrics displayed for karaoke night.

- Queen album review.

- Queen's artist bio.

- Playback queue and Roon Radio.

- Searching for an artist.

- Search results.

- Selecting Bruce Springsteen.
RoonLabs website
Roon Free Trial webpage
On line Roon User Guide
Community Roonlabs
Roon ready network player brands
Roon ready DAC brands

Roon Remote for iOS
Roon Remote for Android
Roon Partner Devices Matrix


This is a very limited overview of the countless functionalities that you will have access to via Roon, enhancing your musical knowledge with each step.
****