The soundbar was a concept realised twenty years ago by specialists of home cinema, principally Pioneer and Yamaha. The system was then known as a "sonic projector". This constituted a myriad of mini loudspeakers oriented in different directions. The objective was to reproduce the main channels in direct diffusion and surround channels through wall reflection. A digital signal calibrator worked to adjust the sound to the room.
These panels rapidly reduced in size to become the shape we know today: the soundbar. A speaker around ten centimetres in height, smaller or larger depending on the range and number of inbuilt loudspeakers.
Manufacturers have also reduced the number of speakers inside a soundbar, to a minimum for most. At the same time, signal calibrators have benefited from increased calculating power. Today, it is possible to send out sound in all directions, taking advantage of multiple criterion to completely fool our ears into believing that the speakers are located at our sides or on the ceiling. Each year, the quality of sound reproduction improves in this field.
Regarding the reproduction of music, it is possible to enable specific modes to create a larger soundstage similar to what a pair of traditional speakers can do. While the result might never be identical, the saved space and versatility of a soundbar make it a worthwhile concession. Soundbars have become speakers like all others, midway between a wireless mono and a pair of speakers. If we are to believe the numbers of global sales, it's a compromise that pleases a great deal.

1. JBL Link Bar: a bar dedicated to universal audio and Google video
Price: £349.99
Features: 2.0 soundbar, 100 watts, Dolby Digital, HDMI/optical/analog input, Bluetooth, Chromecast Audio, Google Assistant, Android TV, 102cm length
The JBL Link Bar is a veritable multimedia soundbar. It makes up part of the brand's Link series dedicated to streaming speakers. For music, JBL make use of Google's Chromecast technology allowing you to send any audio signal or application from your smartphone directly to the bar, Qobuz included.
For cinema, JBL has concentrated on video rather than Dolby and DTS decoding. An Android TV media player is integrated into the Link Bar. It is therefore perfectly autonomous when displaying video applications such as Netflix, myCanal or Youtube onto any television. The Link Bar is the perfect match for an aging television.

+
Simple to use
Integrated Android TV
Connectivity


-
No DTS decoding
Limited cinema effects


2. Sonos Beam: the best connected mini soundbar
Price: £399
Features: 2.0 soundbar, Dolby Digital, HDMI/optic inputs, Sonos multiroom, UPnP/DLNA, AirPlay 2, Google Assistant, Amazon Alexa, 65cm length
The Beam is the second bar released by Sonos. Smaller than the Playbar, it is also better equipped. For example, it benefits from an HDMI ARC input that can double up as an optical input with the use of an adapter. Sonos have also equipped the Beam with microphones to allow voice control through Google Assistant and Amazon Alexa.
This bar reads only Dolby Digital and is capable of creating a large sound stage with dialogue that is always centered and well-defined. For music, the Sonos system provides access to all the streaming services of which Qobuz is of course directly integrated. It lacks Bluetooth, but the Beam is compatible with UPnP/DLNA and Roon.

+
Easy to set up
Multiple audio services
Voice assistant


-
No DTS decoding
Absence of audio services
No Bluetooth


3. Yamaha MusicCast BAR 40: A multi-use soundbar at an accessible price
Price: £249
Features: 2.0 soundbar, 100 watts, Dolby Digital, DTS, DTS Vrtual:X, HDMI/optical/analog inputs, Bluetooth, MusicCast multiroom, UPnP/DLNA, 95cm length
Yamaha's MusicCast network audio system is being increasingly integrated into the brand's soundbars, such as this BAR 40. It is a simple model in terms of its audio capacities but is very well equipped in terms of connectivity: HDMI, optic and analog. Bluetooth is also present and MusicCast provides integrated access to streaming services such as Qobuz.
With Yamaha being an instigator of this kind of device, their mastery of providing cinema sound in a reduced format shines through here. In addition to Dolby Digital and DTS, the BAR 40 flaunts DTS Virtual:X for creating 3D sound with only the bar's loudspeakers. You can optionally link up two additional MusicCast surround speakers as well as a wireless subwoofer.

+
Connectivity
3D surround effect
Upgradable


-
Limited bass
No screen


4. Samsung HW-Q70R: 3D sound with the help of Harman Kardon
Price: £699
Features: 3.1.2 soundbar, 330 watts, Dolby Atmos, DTS:X, HDMI/optical inputs, Bluetooth, UPnP/DLNA, 110cm length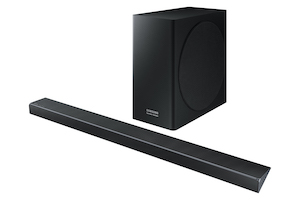 Samsung has developed a wide range of soundbars so as to have one model that fits each television made by the brand. The HW-Q70R works perfectly with Q70 range of television as the name indicates. Yet this is only a suggestion, all is possible with this soundbar including connection to a television made by another brand through its HDMI and optical connectivity.
Regarding music, the HW-Q70R is equipped with no streaming protocol, but through Bluetooth or DLNA it is possible to send wireless music of your choice to the bar. Regarding home cinema, with five individual loudspeakers, the HW-Q70R is capable of virtually reproducing 3D Atmos surround sound channels. A wireless subwoofer is also provided for the reproduction of explosions and other rumbles.

+
Dolby Atmos & DTS:X
Harman Kardon verified sound


-
No multiroom
No analog input


5. Sony HT-ZF9: Immersive sound in a compact size
Price: £650
Features: 3.1 soundbar, Dolby Atmos, DTS:X, HDMI/optical/analog inputs, Bluetooth, Music Centre multiroom, Chromecast Audio, 100cm length
as put the development of their home cinema amplifiers to one side to concentrate on soundbars. They are equipped with the latest 3D multichannel decoders such as Dolby Atmos and DTS:X. Sony has built in the Vertical Surround Engine, a signal processor capable of maximum channel reproduction without a dedicated loudspeaker. For bass, the HT-ZF9 bar is sold with a wireless subwoofer.
There are enough connections to support two HDMI video sources and two audio sources, one optical and one analog minijack. For music playing, the HT-ZF9 bar integrates Chromecast Audio to receive sound from any mobile application. Multiroom is ensured through the Music Centre function available on all Sony streaming speakers.

+
Dolby Atmos & DTS:X
Virtual surround sound
Connectivity


-
Exaggerated DSP


6. Bluesound Pulse Soundbar 2i: the stereo soundbar dedicated to music
Price: £799
Features: 2.0 soundbar, 120 watts, Dolby Digital, HDMI/optical/analog inputs, Bluetooth, BluOS multiroom, AirPlay 2, 107 cm length
The Bluesound brand started off making wireless speakers. The Pulse Soundbar 2i was subsequently introduced to open the range up to the audio/video market. With its 10cm bass speakers at the front, the Pulse Soundbar 2i is more imposing than its rivals. It can stand up on its own with supports but fixing it on a wall would sometimes be better.
With only Dolby Digital and no kind of virtualization, this bar is lacking in terms of cinema decoding, but is sufficient for greatly improving the sound section of a television. Above all, this allows the Pulse Soundbar 2i to be an excellent streaming speaker all in itself. With its BluOS multiroom sound system, it can directly access Qobuz in Hi-Res.

+
Hi-Fi Quality
10cm woofers and radiators
BluOS Multiroom


-
No DTS
Imposing size


7. LG SN11RG: 12 channels for listening to music in Hi-Res
Price: N/A
Features: 7.1.4 soundbar, 770 watts, Dolby Atmos, DTS:X, HDMI/optical/analog inputs, Bluetooth, BluOS multiroom, Airplay 2, 144cm length
The LG SN11RG soundbar has just recently been presented at the CES trade show in Las Vegas. A new flagship for the brand, the SN11RG was developed with Meridian, a British Hi-Fi specialist. It physically holds all the speakers needed for producing sound in a 7.1.4 format: seven loudspeakers on the bar and two on each wireless surround speaker, without forgetting the subwoofer, which is also wireless.
LG has opted for the Chromecast Audio service for playing music. It's as easy as taking your smartphone and casting to the SN11RG to listen to whatever you want. Note that it is Hi-Res 24/192 compatible. LG has also built in microphones and Google Assistant for complete voice control of the soundbar.

+
True 7.1.4 functionality
Sound section developed by Meridian
Google Assistant


-
Imposing size


8. B&W Formation Bar: midway between high fidelity and home cinema
Price: £999.99
Features: 3.0 soundbar, 240 watts, Dolby Digital, optical input, Bluetooth, Formation multiroom, Airplay 2, Roon, 124cm length
With their new Formation range, Bowers & Wilkins have recently entered the world of streaming speakers and multiroom and released a soundbar that covers all the bases. The Formation Bar features an unconventional design that is both original and stylish at the same time. It has three distinct channels, left/center/right, for clear reproduction of dialogue in home cinema mode.
It is possible to add surround speakers and a wireless subwoofer to fully deck out the system. We advise using the latter, even for when listening to music for a more muscular sound. Thanks to Roon and its Hi-Res capabilities, the Formation Bar can make use of Qobuz. Alternatively, AirPlay 2 allows audio connection for all those who own Apple devices.

+
Style
Sharp reproduction
Roon compatible


-
Limited connectivity
No DTS


9. Paradigm PW Soundbar: the bar that adapts to your room and your tastes
Price: £1,890
Features: 5.0 soundbar, Bluetooth, Play-Fi multiroom DTS, AirPlay, 116cm length
The Paradigm PW Soundbar is equipped with nine loudspeakers oriented in different directions for the production of Dolby 5.1 and DTS sound channels. An inbuilt DSP applies the necessary adjustments to create immersive sound. A subwoofer and surround speaker can be added as an option. Note the presence of a very complete and practical display providing information at only a glance.
Released in PW's wireless Hi-Fi range, this soundbar embraces versatility. Making use of the Play-Fi multiroom DTS protocol, the Paradigm PW can access webradios, music stored on a shared folder, and streaming services including Qobuz. The ARC audio calibration system allows the speaker to adapt its output to your room thanks to the included measurement microphone.

+
ARC audio calibration
Video/Hi-Fi capabilities
Connectivity


-
No Dolby Atmos or DTS:X
Bulky


10. Sennheiser Ambeo: a go-to for immersive sound
Price: £2,199
Features: 5.1.4 soundbar, 500 watts, Dolby Atmos, DTS:X, HDMI/optical/analog inputs, Bluetooth, Chromecast Audio, DLNA/UPnP, 126 cm length
Sennheiser, better known as professionals in the making of general-use headphones, have surprised us by releasing their own soundbar. The bar has been released in the Ambeo range, where the brand assembles all its products centered around 3D sound. It's a large soundbar, 13 centimeters thick with a weight of 18kg. It flaunts 13 loudspeakers and production of Dolby Atmos and DTS:X in 5.1.4 channels. The .1 of bass is produced by the bar itself and is rather beefy when compared with rivals. Thus, an external subwoofer is not necessary.
For optimum sound, the Ambeo Soundbar is calibrated with an external microphone found in the box. Once used, different adjustments can be applied for films and music. Sennheiser has opted for Chromecast Audio, a simple system that allows you to send music to the Ambeo bar directly through the Qobuz application.

+
Immersive sound
Connectivity
Audio calibration


-
Bulky


Conclusion:
We almost always associate soundbars with watching films, and to begin with, that was indeed the case. But if loudspeakers are already there, in the middle of your living room, why not put them to use for listening to music as well? Developers have little by little began to integrate more tech into soundbars such as Bluetooth and network connectivity. Bluetooth has always been practical, and a network gives us access to every possible audio source (webradios, streaming, files) – some soundbars even offer Hi-Res. Entry level models represent compromise above anything, aiming to improve the sound quality of your television while allowing you to replace an old Hi-Fi system. Two functions are covered, but we should not ask too much from reproduction quality.

When we move up the market, developers diverge from one another: on one side are soundbar models that are immersive and perfect for films. On the other side, are Hi-Fi models that are almost as good as a separate sound system. It is nigh-on impossible to find a sound bar with excellent sound in both fields. Your final choice will depend on what you will use the system most for: do you what a soundbar principally for watching films (Sony, Samsung, LG…) or for listening to music (Bluesound, BW, Paradigm…)?

Translated by Henry Wright


To stay up to date with everything happening at Qobuz, follow us on Facebook!