Loudspeaker and HiFi brands love celebrating their anniversaries. After all, it's an opportunity to create an exclusive product, whether that's a new colour finish or a new specific model. In either case, an anniversary series is usually limited edition to really span the occasion.
Monitor Audio's product range is evidently based on a podium, featuring Bronze, Silver and Gold. At the top of the range is their Platinum series, with the Radius series representing the more affordable end of the spectrum. Following this logic, the Silver 100 is positioned just below the Gold 100. Each series includes the classic styles: bookshelf, column and centre channel. Only the Silver 100 bookshelf speakers are available in this particular limited edition.
● Price : 1300 €
● Pair of Bookshelf Speakers
● Speakers: 25 mm tweeter, 20 cm woofer
● Power Handling : 40-120 Watts
● Frequency Range : 35-35.000 Hz (+/-6dB)
● Minimum Impedance : 4.9 ohms to 170 Hz
● Other : double terminal block for bi-wiring
● Dimensions (lxhxd) : 230 x 375 x 332 mm
● Weight : 9.4 kg per speaker
Overview of the Silver 100 LE
The Silver 100 Limited Edition speakers are based on the Silver 100 7G, which has earned a solid reputation since their release, as have the previous generations released since 1999. These bookshelf speakers are fairly large, at 23 cm wide and almost 40 cm high, so if you're planning to install them on a piece of furniture, you'll have to make room for them. On the other hand, if you're going to place them on a stand, you'll need to select a model with a wide support base.
The body is made of classic MDF panels. There's no internal bracing, just a fairly thick foam covering all sides. For rigidity, Monitor Audio has chosen to use long screws that pass through the rear panel and are fitted to the back of each speaker. This puts tension on the speaker and limits vibration. This is a technique usually used on high-end speakers and subwoofers.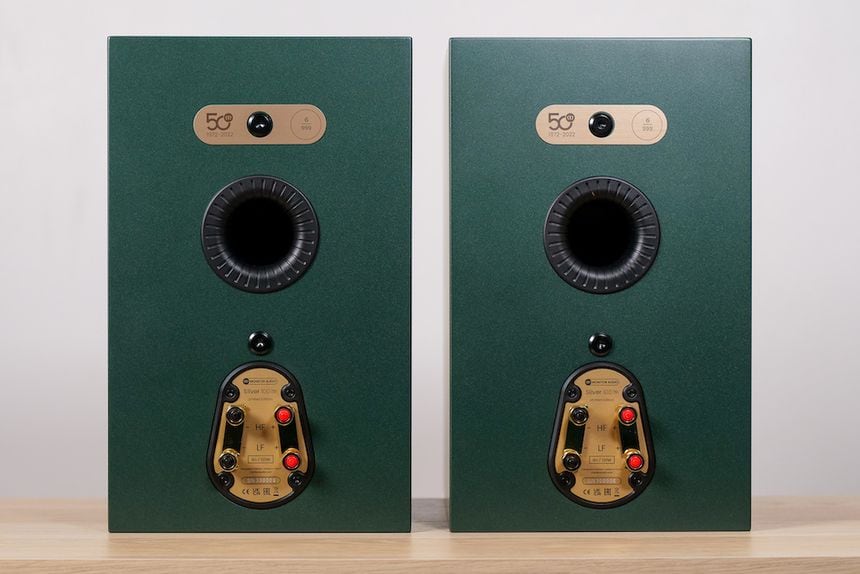 The C-CAM Gold tweeter itself is a work of art. It's located above an anodised gold C-CAM bass driver. The whole unit is protected by a grill with small openings, an original design that injects some personality into the classic Silver 100. This tweeter is capable of reproducing high frequencies, up to 35,000 Hz, a typical characteristic of Monitor Audio speakers. There's a reason why the more premium models use ribbon tweeters. Of course, we can't hear these frequencies, but they still contribute to the overall sound through harmonics.
The Silver 100 boasts a 20 cm woofer. Bookshelf speakers are usually fitted with a 13 or 16.5 cm driver. This makes it possible to deliver a higher bass level and reach even lower frequencies—down to 35 Hz at -6 dB. This reproduces all the frequencies of a bass guitar, just as floor-standing speakers are capable of doing. Monitor Audio is primarily concerned with bass articulation (the ability to maximally discern each reproduced frequency) to ensure the bass line doesn't become monotone. The C-CAM woofer is equipped with an ultra-rigid diaphragm, without a separate core cover, and with embossed designs similar to those on the tweeter grill.
The Silver 100 Limited Edition differs from the Silver 100 7G only from a visual point of view. First of all, there's the stunning Heritage Green finish with its subtle glitter effect. The gold woofer cone is also specific to the limited edition (it's silver on the classic Silver 100). The same goes for the Monitor Audio logo on the front: gold on the limited edition, and white or black on the other versions. The Silver 100 7G is available in a walnut, ash or black oak veneer finish as well as in a satin white or gloss black finish.
On the back, a gold badge displays the 50th-anniversary logo and the serial number of the pair of speakers. They're limited, as the name suggests, to just 999 units. The plate at the bottom of the speaker that contains the terminals has also been given a gold finish to distinguish it from the classic versions. The format remains unchanged: a dual input to separate the tweeter and woofer. They're connected with jumpers for classic mono wiring—simply remove the jumpers to switch to bi-wiring or even bi-amplification. Small plastic caps protect the banana plug terminal inputs, which will need to be removed with small pliers.
Something else you'll notice on the rear panel is the bass reflex port with a ribbed design to provide some control over the airflow. It's best that the Silver 100 LE isn't placed tightly against a wall, as this could result in an overly-exaggerated bass level. Monitor Audio provides two foam plugs to insert into the vents for exactly this purpose. However, we'd suggest letting the speakers breathe as far as possible (this is best for all speakers in general). As for the magnetic covers covered with black cloth, they're not necessary. It's up to you whether you want to protect the speakers or leave them on show.
The Monitor Audio Silver 100 LEs replaced our usual Dynaudio in our test set-up. They were accompanied by a Mac running the Qobuz app, a Mytek Brooklyn DAC/pre-amp and an Elac DPA-2 (class D) power amplifier. We placed the speakers far enough away from the wall that we didn't need to use the foam plugs.
On Emmet Cohen's latest album, Uptown in Orbit, the Monitor Audio focuses on clearly and individually reproducing each of the three instruments. We can hear the trio's beautiful fusion in all its glory; it's easy to concentrate on each musician—you don't even need to close your eyes to visualise their placement. The sound reproduction feels natural, and the Silver 100 LE speakers easily reproduce the tiniest of details, highlighting them when necessary. This holds true when the double bassist adds to the rhythm by tapping his instrument, for example.
The Silver 100 LEs focus on creating a relaxed, unforced soundstage and a measured projection. They're perfect for everyday use and will handle the whole range of musical genres with ease. We didn't come across anything that would make them stand out in any particular register. All styles are reproduced well, whether they contain booming bass lines or ultra-defined treble. When we listened to Remi Panossian's pop-oriented trio on his album Sun Monkey Voltage, we heard the expressive and restrained side of these speakers. The 20 cm woofer, which you might have expected to be much more intense, doesn't overstep the span. It brings the necessary power and fullness without trying to replace a subwoofer. Its articulation qualities are particularly noteworthy.
The overall softness of the sound reproduction doesn't prevent us from enjoying female vocalists, such as Samara Joy for example. The Silver 100 LEs are capable of reproducing the highest frequencies. We finished with Rachmaninoff's Symphony No. 3, conducted by John Wilson. The Monitor Audio's rendition is unquestionably elegant. The instruments are well transmitted, without aggression. The arrangement of the sections is respected, although the soundstage is certainly less deep and broad than other equivalent speakers. This doesn't render the music unenjoyable, however. It's still a stunning reproduction abounding with details and lifelike timbres.
Pros :
Smooth reproduction
Natural mid-high range
Articulate lower register
Original colour and exemplary finish
Cons :
Limited depth of soundstage
The bass lacks a little punch
The Monitor Audio Silver 100 Limited Edition are great speakers. The original green and gold colour combination makes them a beautiful ornament that will elevate any interior. Most importantly, they can easily adapt to all musical styles. Transparent and respectful, they never impose their own sound signature. They're capable of reproducing the smallest details and transmitting the slightest vocal or instrumental intonation. This quality is consistent across all registers, including the lowest frequencies—Monitor Audio fulfils its promise to reduce and prevent distortion. You shouldn't have any issues connecting these speakers to an amplifier. Given the speakers' specificities, you'll only need an amplifier with modest power to get the best out of the Silver 100 Limited Edition.