iFi has numerous DACs available, so everyone can find the one that's perfect for them. From portable models to HiFi models, and with a range of inputs and outputs, these DACs are usually used as a pre-amplifier to connect amplifiers or active speakers. With just a few exceptions, they can also be used as headphone amplifiers. It's in this area that IFI has built a solid reputation. The brand's early models, though versatile, prioritised portability. On the other hand, the Zen, Pro and Neo models are more likely to take permanent residence in your living room.
The Zen series has grown enormously, and the products within it now cover pretty much every individual function of a HiFi system: headphone amplifier, DAC, streamer, pre-phono… the Pro series is comprised of two products, while the Neo iDSD is the only device in its range. As such, it's well equipped to cover all day-to-day needs. Despite its tiny size—a far cry from the size of traditional HiFi devices— it can still hold its own within a high-quality system thanks to its first-class conversion capabilities.
Specifications
● Stereo DAC/pre-amplifier
● Price : 799 €
● Signal-to-noise ratio : -112 dB(A) @ 0 dBFS
● Distortion rate : <0.0015 % @ 0 dBFS
● Headphone output : >5,77 V/1 040 MW (symmetric @ 32Ω)
● Valanced line output: : 4,4 V (fixed), 6,3 V / 7,7 V max (variable)
● Sampling : 384 kHz / 32 bits, DSD512, MQA
● Connectivity : Bluetooth 5.1 (AAC, SBC, aptX, aptX HD, aptX Adaptive, AptX LL, LDAC, LHDC/HWA), 1x optical digital input, 1x coaxial digital input, 1x USB 3.0 input, 1x RCA unbalanced output, 1x XLR balanced output, 1x 6.35mm headphone output, 1x 4.4mm balanced headphone output
● Dimensions (w x d x h) : 214 x 146 x 41 mm
● Weight : 0.97 kg 
General description of the Neo iDSD
The iDSD Neo won't take up a lot of space on your HiFi desk, that's for sure. Audio devices are becoming increasingly compact without foregoing quality, and the iDSD Neo is no stranger to this trend. In this regard, it really hits the mark in terms of manufacturing. The aluminium frame is perfectly fitted. The top of the device and the volume control both feature circular designs created by raised back-lit lines. This breaks up the straight lines and edges, giving the brand its signature style.
The Neo iDSD's strategic design features a small square screen on the left of the front panel, which displays the main file type, sample rate, and volume level. The device contains just two buttons: one to turn the device on and off, and the other to select the source and activate Bluetooth pairing mode. Next to these you'll find the two headphone outputs, namely a classic unbalanced 6.35mm output and a balanced 4.4mm output.
The back of the device is neat and tidy with inputs located on the right, along with a port for the screw-on Bluetooth antenna. Similarly, the device contains a comprehensive codec pack, which supports everything from the classic to the latest and most Hi-Res codecs. There are three digital inputs. Both conventional coaxial and optical inputs are supplied with a USB-B 3.0 backward-compatible 2.0 port. Both RCA and XLR outputs are available.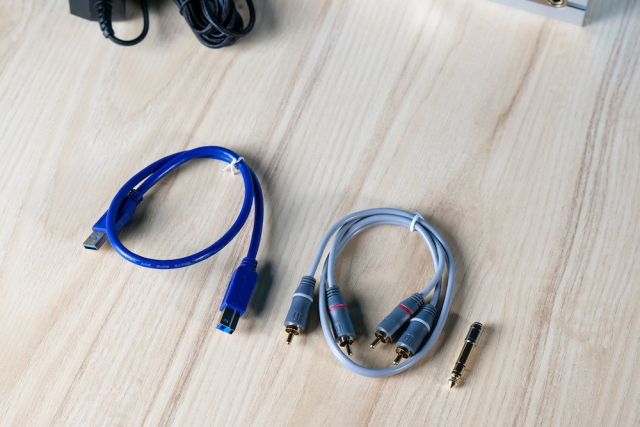 iFi has included a USB cable, RCA cable, mini-jack/jack adapters and their own brand power supply transformer (5V iPower2) which uses Active Noise Cancellation II to reduce noise. The electric cable features a fabric covering and is larger in diameter than the conventional alternative.
The Neo iDSD is brimming with technology that, combined, leads to unbeatable digital audio stream processing. A Burr-Brown chip handles the conversion, supported by an XMOS microprocessor that processes data via USB. It processes nearly 2000 million pieces of information per second and has a memory of 512 KB. Plus, a GMT femto-precision clock and intelligent memory buffer ensure jitter elimination. The dual-mono design of its interior features components selected from the best suppliers in their field, such as the TDK ceramic capacitors and the muRrta multilayer volume controller.
How the Neo iDSD works
This IFI Audio DAC can accommodate four different sources, for example: a DAP, a smartphone via Bluetooth, a CD player or TV via optical input and a PC or streamer via USB. There's nothing the Neo iDSD doesn't accept in terms of file formats and sample rates. It supports PCM up to 32-bit/768kHz and also accepts octal DSD and MQA. All this is confirmed in detail on the DAC front panel display.
It comes with a mini IR remote that controls volume, mute, source selection and screen brightness. It doesn't switch the device on and off, but as there's no trigger output, you'd need to manually switch on the amplifier or active speakers anyway.
RCA and XLR outputs can be configured in either fixed or variable mode. If the latter is chosen, the remote control and the volume control are activated and the Neo iDSD drives the system in pre-amplifier mode. In fixed mode, it acts only as a DAC and should be connected to an integrated amplifier or pre-amplifier. The outputs are powerful with 3.2V to 3.9V variable on RCA, or 2.2V fixed, and these values are doubled in XLR to drive demanding amplifiers.
As for the headphone output, we see the same voltage doubling between the unbalanced 6.35mm output and the balanced 4.4mm output. When it comes to power, unbalanced constitutes 295mW at 32 ohms, whereas balanced is 1040mW at 32 ohms. With an output impedance of less than 1 ohm, the IFI Neo will power pretty much any headphone on the market.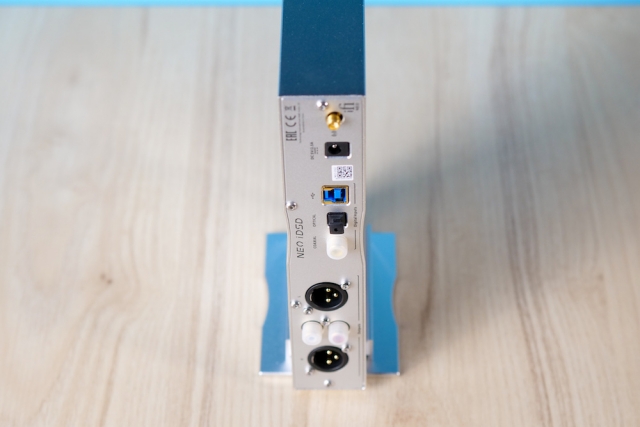 Whilst there's no network connection, Bluetooth will satisfy any users looking to use wireless. Through Bluetooth, you can use the native Qobuz application on a mobile device of your choice. This will transmit the audio stream to the Neo iDSD. However, this limits sampling to 96 kHz. IFI Audio has already made an effort to integrate all codecs: AAC for iPhone, aptX/aptX HD for Android and LDAC for some Android and high-end DAP. Of course, Bluetooth does cause destructive compression and is obviously not comparable to WiFi in terms of output, but it does guarantee a certain ease of use.
Audio Testing
We used Roon (USB) as a source to listen to our Qobuz playlists as well as super high-definition songs in DSD format. The balanced outputs were connected to a parasound amplifier that handled our trusty Dynaudio speakers.
John Williams' Berlin Concert is a gleeful showcase of soundtracks from some of the greatest films of recent decades, and it offers a fantastic depth effect and impeccable placement. Each control panel worked effortlessly behind the speakers, creating a beautiful surround sound effect. The full power of the symphony orchestra entered the room so authentically, it was as if it were there in the room with us.
The smooth, sharp extraction of micro-details meant that it only made sense to test out the device by listening to Eric Clapton's last live CD, the Lady in the Balcony: Lockdown sessions. The tone of the guitars and percussion are particularly realistic. The ensemble is perhaps a little more constricted than it would be with some other DACs, but this is to the benefit of the musicality and voices.
Bonobo's electronic album, Fragments, has a dreamy and intimate flavour and shows good consistency across all sounds, voices and instruments. The low register is intense while still integrating seamlessly with the rest of the music. When we listened to other musical extracts from within the same genre, we experienced excellent focalisation with a marked depth effect. The endnotes and silences are yet further advantages of this DAC, which gives us a sound reproduction that is never tense. Rather, it's always relaxed and fluid.
We brought our headphones to try close by listening, in balanced mode, to Simon Höfele's jazz album, Salted Caramel on a Beyerdynamic Amiron Home (with the necessary adapter). The realism of the double bass is striking, as is that of the brass instruments, whose melodies are effortlessly reproduced. The piano on the left and the drums in the centre provide a steady musical heartbeat. The rendering of these is of such high-quality that it simply can't be faulted. In headphone amplifier mode, the Neo iDSD has made our headphones sing like never before, eliminating any unwanted sounds and allowing for pure, uninterrupted listening.
Pros :
Accurate sound reproduction
Accurate tone
Production quality
DAC decoding capabilities
Competitive price

Cons :
A 12V trigger would make the device even easier to use

Conclusion
The iDSD IFI Audio Neo DAC/Pre-amp is a device that's all about the music. Tones and placements are realistic, and the extraction of micro-information helps create a deep, rich and stable sound. If we're going to nit-pick, you could argue that it may be a little less comprehensive than other competing products, but there we go. Thanks to its versatility in terms of inputs and supported audio formats, this DAC with pre-amp won't disappoint. For a more efficient connection with a power amplifier, it simply needs a 12V trigger. The USB input can accommodate a PC dedicated to music or a streamer equipped with such an output; although these are few and far between, they're usually great quality. They would definitely sound great hooked up to the Neo iDSD, a great DAC which is both good quality and affordable, making it a great product for today's audiophile world.