Liedson products are certainly original in design. They are large, sturdy devices that are built to last. The brand's slogan is "pure noiseless music". That's not referring to a lack of noise outside of the speaker, but within. That which is typically produced by a device's components to the detriment of the music. Liedson make their own electronic chips and carefully arrange their components in order to achieve such 'noiseless' results. The printed circuit boards use two/four layers of Teflon with silver solders. Liedson products require a great deal of professionalism and handiwork to make.
A few years ago, we tested one of the brand's first ever streamers, the Stream 32, with its aluminum and Plexiglas casing, and awarded it a Qobuzissime. The device received widespread acclaim from the press and Hi-Fi enthusiasts. This compact product no longer exists today, but its descendant, the Stream D 4.7 v1.2, is what we are reviewing today. Moving up the range you will find the Fidelio, Odeon and Oratorio, devices which can fetch over 20,000 euros. Liedson also offer DAC/amplifier headphones and a CD player/ripper.
Characteristics:
● Price: 2,490 euros
● Signal to noise ratio: 112 dB
● Level of harmonic distortion: 0.002%
● Sampling: 192 kHz/24 bits
● Protocols: UPnP/DLNA, Airplay1
● Files: FLAC, MP3, AAC, AAC+, ALAC, APE, WAV
● Connections: 1x RCA input, 1x RCA output, 1x USB-A port, 1x Ethernet port, 2x WiFi antennas/Bluetooth 5.0 aptX HD
● Dimensions (lxdxh): 220x200x80mm
● Weight: 4kg

General presentation of the Stream D 4.7 v1.2
The D 4.7 is styled as an aluminum box, longer than it is wide. At only 22cm, it is half the length of a classic Hi-Fi device. The various screws that hold it together are clearly visible giving the product an industrial look. The finish is of a very high quality.
The streamer stands on four wooden feet with grips made from a compact foam. These feet are rather high in comparison to the overall size of the device providing a certain sense of weightlessness despite the physicality of the chassis. Additional design features pretty much finish there as Liedson have reduced the buttons and visual information to the bare minimum, leaving only the essential.
The device is turned on through the switch at the back. The façade features a single central button for network connection. To the right, three LEDs indicate the current mode: input line, Bluetooth or USB. To the left, a USB port accepts thumb drives and hard discs.
The back is also rather pared down with one RJ45 port for wired network connection, one asymmetric analog audio input, one asymmetric analog output and two antennas for WiFi and Bluetooth. The latter is provided in aptX HD so as to deliver the best quality possible despite despite the constraints that are associated with this mode of transmission.
All connections are of a professional level. Liedson has certainly cut no corners, they are honest and to the point, we have no doubts about that. The screw-in antennas are not obligatory if you intend to use an Ethernet network connection.
Under the hood, the capacitor bank is a sight to behold and filters power totaling 53,000 µf. It is joined by an electromagnetic interference filter on several levels. Digital/analogue conversion is carried out on a Texas Instrument chip in which the DirectPath mode allows output connection to operational amplifiers to reduce noise.
Features of the Strie D 4.7 v1.2
The Stream D 4.7 v1.2 is a virtually universal streamer in the sense that it offers sufficient protocols and listening solutions to provide maximum user potential. For the moment, the Liedson Play mobile application is not yet available, but we can use 4Stream which offers all the same services. We have already used this licensed application with other devices from current brands.
The D 4.7 is comfortable to use, simple and efficient. The application integrates Qobuz directly in Hi-Res. It can also access web radios and share files through a network. It's through this application that one can navigate the contents of a USB drive connected to the port at the back. What's more, content is shared to the network and therefore accessible to other devices. In addition, the D 4.7 can be controlled via other applications thanks to its UPnP/DLNA and Airplay 1 compatibility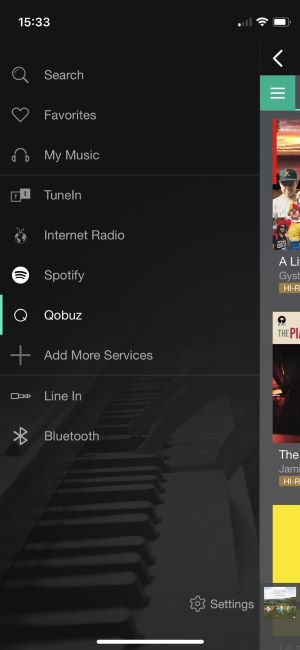 The output volume is controlled through the application with your smartphone's volume buttons. The Liedson is also equipped with a pre-amplifier section and can work alone as a de-materialised system. The input line can be used to connect a record player, for example. You must use the app to switch to this input.
However, it is a shame that the system is not controllable from its front. Prior to playing your music, you must set the volume on the mobile app. A display or some kind of LED level would be welcomed, but we understand the devices minimalist and pared-down intentions.
Upon listening
The Liedson Strie D 4.7 v1.2 has a pre-amplifier function and we relayed the device directly to our Parasound A23 amplifier then a pair of speakers from the Dynaudio Special Forty range. The first impression this streamer gives off is a sense of cohesion. Everything is at one. Vocals and instrumentals are centred, stable and envelop themselves into a cocoon between the speakers. On the album, I Know I Dream by Stacey Kent, the sound stage seems a little smaller than we are accustomed to. The singer and the instruments are more concentrated, closer together, providing an ultra-warm result. There is of course more to be found outside of this central point: microsounds and reverberation reveal the very limits of the recording and the mixing effects creating a sort of arc-shaped panorama that spreads out in all directions. This panorama both supports and propels the music and is comfortable dealing with diverse environments.
The D 4.7 excels with the mids and low-mids ranges, its two registers of choice. Vocals and guitars create a real sense of presence. The extremely high-pitched harmonica on the track Jean-Pierre by Marcus Miller is positioned lightly in the background providing a sense of softness in which the instrument never sounds aggressive, allowing us to increase the volume at our own leisure.
The foundations in the bass notes are solid without being overly exuberant. This was confirmed through the device's excellent rendering of Catastrophe's track Gromit in which rapid impact, bass depth and low frequency layers frequently alternate. The vocals and choirs spread out perfectly into our listening room with a sense of profundity that seemed to go beyond the walls. An extremely convincing experience.
Pros :
Coherence and musicality
Great with vocals and strings
Easy to use
Durable build quality

Cons :
No controls or volume indication on the front panel
One or two digital inputs would have made the D 4.7 universal
Conclusion


The Liedson Stream is a complete piece of kit despite its pared-down appearance. Behind the façade (which lacks both a display and controls) is a streamer that allows access to multiple de-materialised sources including Qobuz in Hi-Res. There's also an input line to link a pre-amplifier output. Navigation through the 4Stream application is rather simple and sufficient for all essential functions. As a modern and complete Hi-Fi system, all that is required is connection to an amplifier and a pair of speakers, or directly to some active speakers. It's efficient, requiring no intermediaries or excess cables. Sound reproduction has a unique character whose principle characteristic is its smoothness. It's technical build also comes with benefits: no noise or residual sound can be heard. The Stream D 4.7 v1.2 offers speed, precision and realism especially with vocals, stringed instruments and percussion. The soundstage is sturdy and creates a noticeable distinction between the core sound and the little details that surround it providing excellent readability. A high-level device which requires a mindful association to other devices in order to adapt it to your personal tastes.