You can play music anywhere and now it's easier than ever. At home, in the office, in the car, on the street, there are solutions for every situation. There are even speakers for the garden. Bringing sound outside is nothing new, yet speakers intended for outdoor use have long been something of a secret, reserved for high-end systems in equally high-end homes.
This field, like many others, is becoming increasingly accessible to the public. With mobile apps such as Qobuz making it easy to listen to millions of tracks whenever you want, it follows that you should be able to listen to music in any environment. Enjoying music on your balcony or by the pool is becoming more and more natural. There are battery-powered Bluetooth speakers that are easy to move and use. However, the quality is rather limited.
You can enjoy near-HiFi music outdoors by installing fitted speakers. Outdoor climates pose problems, though manufacturers can overcome this with efficient models that adopt and adapt some of the technologies used in indoor speakers. This type of installation must be properly planned because you have to fit wires. These run to the inside of the house where you find the amplifier and network audio player. The latter is essential because it allows you to control the music from your smartphone while lying comfortably on your deckchair!
Depending on the area where you're planning on playing music, it's always better to multiply several small speakers and play music at a moderate volume, rather than choosing large speakers with a loud volume. Plus, you avoid annoying your neighbours angry and imposing your musical tastes on them!
1. Yamaha NS-AW592: the most versatile outdoor speaker
Characteristics:
Price: 189 € per pair
Features: adjustable wall or ceiling brackets, 16 cm + 25 mm speakers, 150 watts max., 55-20,000 Hz, 6 ohms, 88 dB, white or black
Yamaha makes more speakers for professional use than for the public. As demand for outdoor speakers rises, the Japanese manufacturer has responded by developing a range of low-cost technical speakers. The mounting method has been particularly well thought out. Mounting brackets and non-slip pads are included to help you put them up wherever you want.
The case, available in black or white, is treated to resist water and UV rays, as are the terminals for the speaker wires. The audio features are on a similar level of quality to those found in conventional bookshelf speakers. The bandwidth goes deep enough into the bass thanks to the 16 cm driver. The high power handling makes the Yamaha NS-AW592 suitable for use with most amplifiers.
+:
High power handling
High bandwidth
Versatile installation

-:
The "technical" aspect



2. Artsound Rock: the outdoor speaker disguised as a rock
Characteristics:
Price: 278 € per pair
Features: speakers made for flowerbeds, 16.5 cm full-range driver, 130 watts max., 50-20,000 Hz, 8 ohms, grey colour
The concept of making speakers the shape of rocks is not protected. Different brands have manufactured them. Originally from the United States, where they were intended for classy villas to be used in enormous landscaped gardens, the rock casing has become more widespread. The Artsound version comes in a relatively small size: 32 cm wide by 27 cm high.
Don't hesitate to mix the speakers with other stones to make them disappear amongst the vegetation. Thanks to a comfortable bass-reflex load volume for the single 16 cm driver, the Artsound Rock loudspeaker covers a wide bandwidth starting at 50 Hz. Plus, you can easily link up speakers in different corners of the garden.
+:
Unique shape
High bandwidth
Discreet but...
-:
...you need to be careful disguising it
Reduced medium/treble



 
3. JBL Control X: the most compact outdoor loudspeaker
Characteristics:
Price: 299 € per pair
Features: wall mounting brackets and safety cables, 13 cm + 25 mm speakers, 100 watts max., 90-20,000 Hz, 8 ohms, 87 dB, white colour
The JBL Control are traditionally small loudspeakers designed for public address systems. JBLs are often found in public places, such as bars and restaurants, but also in homes, used as a discreet satellite or placed on computer desks. There is also a model intended for outdoor use in this range: the Control X.
This small loudspeaker is delivered with a wall bracket and a security tie-down metal cable. The sound is clear and detailed thanks to a tweeter equipped with a metal and ceramic membrane combined with a waveguide. The 13 cm woofer makes the lower frequencies somewhat limited when playing music at a low volume. Outdoor subwoofers are also available, which complement the Control X well.
+:
Discrete
Precise high frequencies
-:
Limited bass
Bluetooth option is expensive for the battery




4. Focal Custom 100 OD6: Focal sound aesthetics in the garden
Characteristics:
Price: 349 € per pair
Features: rotating and notched mounting bracket, 16.5 cm + 19 mm speakers, 120 watts max., 65-20,000 Hz, 8 ohms, 87 dB, white or black colour
At Focal, the 100 series includes all the specific loudspeakers designed for integration: in-wall and in-ceiling speakers, wall-mounted boxes and outdoor models. The 100 OD6 is equipped with a high-density polypropylene damping cabinet available in black or white. It is UV-resistant and resistant to the elements thanks to its IP66 certification. The screw terminal block is embedded in a silicone cover to prevent the loudspeaker cables from oxidising.
The Custom 100 OD6 is based on Focal's entry-level loudspeakers. There is a 16.5 cm woofer with Polyglass treatment and an aluminium inverted dome tweeter (a piece of equipment that everyone interested in Focal knows about). The mounting bracket is integrated into the speaker for vertical or horizontal positioning with a precise 180° notched joint.
+:
HiFi loudspeakers
Full IP66 protection
Adjustable mounting bracket
-:
Limited bandwidth in low registers
Bulky




5. Kef Ci100 QS: the built-in outdoor speaker for overhanging roofs
Characteristics:
Price: 358 € per pair
Features: in-wall for outdoor use, coaxial 10 cm + 19 mm speakers, 50 watts max., 80-27.000 Hz, 4 ohms, 88 dB, white grille
Kef is a key player in the field of built-in speakers. They cover multiple uses and a very wide price range, with models as small as spotlights and others as large as columns. Kef has jumped on the opportunity to create universal models that can be used both indoors and outdoors. The Ci100 QS is a small 12.7cm speaker that fits neatly under an overhanging roof.
Both the grille and the membrane are equipped with corrosion-resistant materials, ensuring total protection even in in humid environments. Kef has used their famous Uni-Q here where the 19mm tweeter is housed in the bottom of the 10cm woofer. Performance is inevitably limited, so we recommend pairing several Ci100 QS speakers to get a good homogeneity.
+:
Totally discrete
Uni-Q technology
-:
Limited bass
Installation work necessary



 
6. Cabasse Zef 13: outdoor wall-mounted loudspeakers for windy weather
Characteristics:
Price: 398 €
Features: rotating mounting bracket, 13 cm + 25 mm speakers, 420 watts max., 70-22,000 Hz, 4 ohms, 86 dB, white or black colour
Here's a brand you might not expect to find in our top outdoor speakers review. And yet Cabasse, like many others, has expanded to include systems for terraces and gardens. In keeping with tradition, the word Zef hints to the zephyr wind - something that will certainly be hitting these speakers once they are attached to your outhouse or the wall of your house.
The Zef 13 is composed of a composite enclosure that is resistant to sun, dust and rain. An aluminium grille protects the speakers and the bass reflex vent. The 13 cm midrange comes with a 25 mm tweeter for an impressive peak power of 420 Watts - the Cabasse signature. The supplied mounting bracket can be replaced with an optional ball joint.
+:
HiFi loudspeakers
Power handling
Compact
-:
Limited bass



 
7. Bose Freespace 51: heavy-duty underground speakers
Characteristics:
Price: 499 € per pair
Features: semi-buried speakers, 11.4 cm wideband speaker, 50 watts max., 4 ohms mini, green colour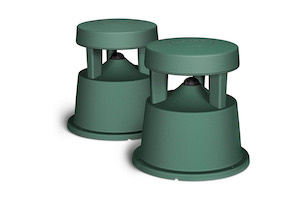 The Bose Freespace 51s must of course be buried. They are 38 cm high, half of which disappears into the ground. They include a downward-firing 11.4 cm full-range driver. They are installed horizontally and protected by a kind of cover. They come in a green colour to blend into vegetation.
Bose is a specialist in all kinds of sound systems. These semi-buried speakers are also used in places such as amusement parks or hotel gardens. The tried and tested Freespace 51s are also available for the general public to play music in gardens or by poolsides from a distance of up to 7 to 8 metres.
+:
360° sound coverage
Long range
Tried and tested
-:
More atmosphere than HiFi
Special aesthetics



 
8. Klipsch PRO-500T-LS: a horn tweeter for your garden
Characteristics:
Price: 598 € per pair
Features: single satellite speaker, 12.7 cm speaker + 25 mm horn tweeter, 60 watts max., 130-30,000 Hz, 8 ohms, 88 dB, matt brown colour
This is another speaker format dedicated for the garden. The Klipsch PRO-500T-LS has a stake that is very easy to plant in a lawn or a flowerbed. The brown finish adds to their discreet appearance, but they can also be repainted, in green for example. The speakers will obviously be placed at ground level, with a ball joint that directs the speaker upwards for optimal sound coverage.
Klipsch does not go against tradition, integrating a Tractrix horn tweeter even in their outdoor loudspeakers. The PRO-500T-LS has a 25mm tweeter mounted at the bottom of the horn and placed in front of a 12.7cm graphite-diaphragm woofer. The whole thing is protected by a thin rain-proof grille. As an option, a small wall arm offers additional installation possibilities.
+:
Very discreet
Klipsch signature
High quality loudspeakers
-:
Compulsory subwoofer




9. B&W AM1: the most HiFi outdoor speakers
Characteristics:
Price: 599 € per pair
Features: mounting bracket with rotation, 13 cm + 25 mm speakers, 100 watts max., 51-20,000 Hz, 8 ohms, 86 dB, white or black colour
Bowers & Wilkins have always offered speakers in a wide range of formats to give you access to the brand whatever your needs and expectations. So it's hardly surprising to find outdoor speakers in the catalogue. The AM-1s are attractive models that benefit from a nice aesthetic thanks to a curved cabinet. The original mounting system fits on a half arch that means only one dowel has to be fixed to the wall.
The speaker cable is integrated into the 220° adjustable bracket. The terminal blocks are located at the same level as the wall mounting and are perfectly protected once the speaker is fixed. Acoustic qualities are provided by a 25 mm Nautilus tube-loaded tweeter and a 13 cm fibreglass woofer with a passive radiator. All of this means that you can really enjoy high-fidelity sound reproduction from the edge of the pool.
+:
High-end Nautilus tweeter
Hi-Fi playback
Ingenious hanging system
-:
Needs a bit of space




10. Sonance/Sonos Outdoor: Ideal for use in a Sonos environment, but not only…
Characteristics:
Price: 899 € per pair
Features: swivelling mounting bracket, 16.5 cm + 25 mm speakers, max. 130 watts, 55-20,000 Hz, 8 ohms, 89 dB, colour white
Sonos only make connected speakers. However, to effectively complement their AMP amplifier, Sonos has teamed up with one of the American speaker specialists for integration: Sonance. Sonance has developed an exclusive speaker whose grille follows the design of the other speakers in the Sonos range for perfect coherence.
The Sonos Outdoor speaker is obviously designed for outdoor use. It has a traditional swivelling mounting bracket. When combined with the Sonos AMP, it automatically recognises the speakers and the amplifier settings are adjusted accordingly. In addition, up to six outdoor speakers can be connected to a single Sonos AMP. Available only in white, they can easily be repainted.
+:
Sonance product quality
High bandwidth
Association with Sonos Amp
-:
High cost




Conclusion
Bringing sound to your garden and terrace has never been so simple and affordable. You can rely on the major speaker brands to find quality products that are specially adapted for outdoor use. Prices start very modestly in easy-to-install formats: wall mounting or using the pillars of a wooden gazebo. Other solutions invite you to scatter several small speakers in the middle of your vegetation where they will visually disappear. All these models are wired. Combined with an amplifier installed in the house, they can deliver their best sound thanks to the adapted power that you will find in many brands, sometimes the same ones as the original speakers. Some of them can be connected in parallel in multiple copies according to specific wiring and amplification to bring music to large spaces. All you have to do is associate the network audio player of your choice with this amplifier. When using it, the whole system requires nothing more than grabbing your smartphone or tablet and selecting your favourite Qobuz playlist. Finally, as we said in the intro, make sure you respect your neighbours by modulating the sound! Quality speakers listened to at a medium sound level will always offer a better reproduction than small Bluetooth speakers whose volume is pushed to the max.