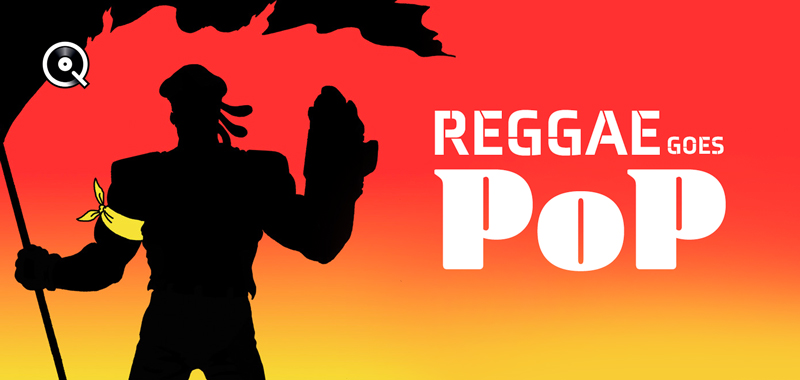 Musique illimitée
Profitez de cette playlist sur les apps Qobuz grâce à votre abonnement
Souscrire
Profitez de cette playlist sur les apps Qobuz grâce à votre abonnement
Quand les stars de la musique américaine se réapproprient les sons reggae venus de Jamaïque, featuring Major Lazer, Justin Bieber, Kanye West, Beyonce, Rihanna, Drake, Miley Cyrus, Snoop Dogg…
Voir plus
Vous êtes actuellement en train d'écouter des extraits.
Écoutez plus de 70 millions de titres avec votre abonnement illimité.
Écoutez cette playlist et plus de 70 millions de titres avec votre abonnement illimité.
1 mois gratuit puis 14,99€ / mois.
À propos
Quand les stars de la musique américaine se réapproprient les sons reggae venus de Jamaïque, featuring Major Lazer, Justin Bieber, Kanye West, Beyonce, Rihanna, Drake, Miley Cyrus, Snoop Dogg…
Comment le reggae a conquis la pop américaine
Jamais le reggae n'avait été aussi exposé depuis Bob Marley. Depuis trois ans, les tubes des stars de la pop américaine ont pris des saveurs jamaïcaines. De Beyonce à Rihanna en passant par Drake, Ed Sheeran ou Justin Bieber, ils sont de plus en plus nombreux à avoir posé leur voix sur un morceau de dancehall, la version « club » du reggae popularisée par le légendaire producteur King Jammy au milieu des années 80 avec le Sleng Teng, le premier reggae électronique de l'histoire. Retour sur une infiltration en douceur.
Rihanna, porte-flambeau du reggae
Et pour la petite histoire,
Diplo
avait proposé un arrangement reggae de
Lean On
à
Rihanna
, qui l'a refusé. Le titre a fini entre les cordes vocales de la Danoise MØ, mais l'idée était bonne, car la Barbadienne fait aussi partie de ceux qui ont ouvert le chemin de la pop aux rythmes caribéens. Son premier album,
Music of the Sun
, sorti en 2005, est d'ailleurs un disque de reggae, en tout cas sa première moitié. Et c'est grâce à un morceau de dancehall que
Rihanna
s'est fait remarquer par Jay Z, qui écouta pour la première fois
Pon De Replay
dans son bureau à Def Jam. Crédité à Evan Rogers (celui qui a découvert la chanteuse sur une plage de La Barbade), le titre est en fait un édit du
Diwali
, produit trois ans plus tôt par le Jamaïcain Steven « Lenky » Marsden. Le riddim (un instrumental sur lequel posent plusieurs artistes, une tradition jamaïcaine) est devenu en quelques mois l'un des titres les plus populaires de l'histoire du genre, grâce notamment à
Sean Paul
qui l'utilisa sur
Get Busy
. Conquis par cette vibe caribéenne, Jay Z fait venir
Rihanna
, 15 ans, à New York, en décembre 2003, et la signe immédiatement.
Deux ans plus tard,
Rihanna
sort son premier album, dont les quatre premiers titres sont du reggae,
Pon De Replay, Here I Go Again, If It's Lovin' That You Want
et
You Don't Love Me (No, No, No),
une reprise du standard de Dawn Penn, tandis que le reste du disque tente de séduire divers secteurs du public américain, entre hip-hop, slow pop et R&B. Tout au long de sa carrière, la chanteuse a gardé une place pour le reggae, que ce soit sur
Break It Off
avec
Sean Paul,
ou
Roll It Gal
featuring J-Status, en 2007, ou
Man Down
en 2011, avec son rythme « reggae rockers » (plus soutenu que le rythme reggae classique, avec la grosse caisse jouée à chaque temps), un style inventé par le mythique duo batterie/basse Sly & Robbie au sein du studio jamaïcain Channel One à partir de 1976.
« Je suis superinspirée par le reggae,
expliquait
Rihanna
à MTV en 2010.
J'ai grandi avec, c'est ma culture. Je peux écouter du reggae toute la journée, je ne m'en lasserai jamais. »
On peut donc s'attendre à d'autres
Work
dans le futur. Pour Sevn Thomas (coproducteur de
Work
avec Boi-1da et le songwriter d'Ove, PartyNextDoor), la tendance peut durer tant qu'elle restera authentique : «
On a saisi cette opportunité de faire monter le dancehall quand on a vu le succès de la vague tropical house en 2015. On entendait des sons caribéens et on voulait y ajouter notre touche, c'est ce qui nous a menés à
Work
. Mais là, j'ai l'impression que l'industrie est devenue saturée par les gens qui pourchassent
Work
en essayant de reproduire les mêmes résultats. Cette chanson est unique, et il y a une raison : Rihanna est caribéenne, Drake comprend cette culture parce qu'il vient de Toronto, et PartyNextDoor, Boi-1da et moi sommes jamaïcains. Ce n'était pas quelque chose de forcé. »
Et on sait bien ce qui se passe quand l'industrie de la musique mainstream tente de surexploiter un genre (le dubstep ne vous remercie pas). Alors pour le dancehall, il vaut sans doute mieux en rester là.
Allez sur les applications Qobuz pour lire l'article complet...
Rejoignez Qobuz pour lire l'article complet...
Lire la suite sur Qobuz

Pourquoi acheter sur Qobuz ?
Streamez ou téléchargez votre musique

Achetez un album ou une piste à l'unité. Ou écoutez tout notre catalogue en illimité avec nos abonnements de streaming en haute qualité.

Zéro DRM

Les fichiers téléchargés vous appartiennent, sans aucune limite d'utilisation. Vous pouvez les télécharger autant de fois que vous souhaitez.

Choisissez le format qui vous convient

Vous disposez d'un large choix de formats pour télécharger vos achats (FLAC, ALAC, WAV, AIFF...) en fonction de vos besoins.

Écoutez vos achats dans nos applications

Téléchargez les applications Qobuz pour smartphones, tablettes et ordinateurs, et écoutez vos achats partout avec vous.