The outdoor speaker has capabilities which are quite different from indoor speakers. It has no baffle to bounce the sound off in the direction of the listeners. Once the sound leaves an outdoor speaker, it vanishes into the atmosphere. We know that low frequencies benefit enormously from the resonance of the room in order to be faithfully reproduced. Portable speakers simply compromise over this: the speakers are small and focus on the frequency range to which our ears are most sensitive. Nevertheless, some outdoor loudspeakers make a good effort to bring out the bass in the best possible way, without adding too much weight, helped by digital audio processing.
So the size of portable speakers is not a critical issue to take into account. As you will see, the speakers in this top ten list fulfil their main purpose: they are compact models and are easy to transport. Leaving aside their price, they differ in their audio quality and also in their built-in features, mainly in terms of connectivity. Design is of major importance with this type of equipment that will be often moved around, inevitably on display when everyone is sitting around it.
1. Klipsch Heritage Groove: the most retro of portable speakers
Price : 99 €
Features : 20 Watts, 1x 75mm wide range, 2x passive radiators, Bluetooth, hands-free, 1x 3.5mm input, 8 hours battery life, micro USB charging port, 127 x 152 x 67mm, 990g
Klipsch has applied its Heritage aesthetic to this Groove mini portable speaker. It has wooden panels and fifties-style fabric contours. Despite all this, the weight is kept to under a kilo for ease of transport. All the controls are easily accessible on the top panel.
Two inputs are available: Bluetooth and a mini-jack for wired input. Thanks to the integrated microphone, hands-free telephoning is possible. The dynamic sound signature is boosted by the presence of two passive radiators for the lowest frequencies. Battery life is acceptable
Pros :
Original design
Hands-free telephone
Ergonomic

Cons :
Not water resistant
Limited battery life

2. Sonos Roam: the most versatile mini portable speaker
Price : 179 €
Features : dual amplifier, 1x woofer, 1x tweeter, Bluetooth, WiFi, AirPlay 2, stereo pairing, 10 hours battery life, USB-C charging port, IP67 water resistant, 168 x 62 x 60mm, 430g
With the Roam, Sonos has added a second mobile speaker to its range. This time, unlike the Move, the format is really tiny making it easier to carry around. The Sonos quality is evident with its solid one-piece finish. Features are limited but the presence of Bluetooth and WiFi makes this a versatile speaker.
Outdoors it is autonomous and, above all, perfectly waterproof. Once back at home, it slips into the Sonos Multi-Room Music System and can communicate with other Sonos speakers. Audio quality is respectable for such a small format, especially with the continuous automatic audio calibration.
Pros :
Bluetooth and WiFi
Waterproof
Compact

Cons :
Average battery life
Limited sound projection

3. Audio Pro T3+: open air music with style
Price : 199 €
Features : 25 Watts, 1x 90mm woofer, 2x 20mm tweeters, Bluetooth, 1x 3.5mm input, 1x USB-A output, 30 hour battery life, 230V charging port, 215 x 115 x 135mm, 2.1 kg
With its quirky style, the Audio Pro T3+ aspires to be a stereo speaker. It has two separate left/right tweeters but only one common woofer. Its comfortable internal volume combined with its bass-reflex allows it to reach the lower frequencies for a warmer sound.
The battery life is attractive with a claimed 30 hours at half volume. In addition, its USB output allows a smartphone or other external device to be charged from the speaker's internal battery. A strap makes the T3+ easy to carry, but its painted wood finish somewhat limits the all-terrain nomadic aspect.
Pros :
Good battery Life
Stereo design
USB charging port for accessories

Cons :
Fragile
Not water resistant

4. Beosound Explore: the fearless mini Bluetooth speaker
Price : 199 €
Features : 30 Watts, 2x 46mm wide range, Bluetooth, stereo pairing, 27h battery life, USB-C charging port, IP67 water resistance, 124 x 81 x 81mm, 631g
This latest Bang & Olufsen mobile speaker has a more technical appearance than previous models. You need have no worries about taking it anywhere thanks to its drop-resistant casing and IP67 certification. The Beosound Explore comes in anthracite black, light grey or a rather unusual green. It can be carried by its strap or attached to a bag using the carabiner clip provided.
Its connectivity is limited just to Bluetooth. B&O makes up for this by allowing two Explore speakers to be combined in stereo mode. The sound is diffused through 360° thanks to two wide range speakers but the response in the bass frequencies is limited. Beosound Explore is perfect for mood music in any situation.
Pros :
360° sound
Robust
Stereo pairing

Cons :
Mini speakers
Connectivity

5. Marshall Kilburn II: the mobile speaker with a rock 'n' roll attitude
Price : 249 €
Features : 36 Watts, 1x woofer, 2x tweeters, Bluetooth, 1x 3.5mm input, 20h battery life, 230V charging port, IPX2 water resistance, 243 x 162 x 140mm, 2.5 kg
For several years, the British company Marshall has been adopting the image of its famous guitar amps for home and mobile speakers. The Kilburn is one of these, a model pitched at the middle range market. Apart from the prominent 60's logo, it sports a hard plastic imitation leather finish and corner protectors for outdoor use.
In addition to its eye-catching styling, the Kilburn II benefits from such other qualities as multi-user Bluetooth and the presence of a mini-jack auxiliary input. It is also one of the few speakers to have an LED display for the sound level and to offer bass and treble adjustments directly accessible on the top of the speaker. With its 36 watts, it delivers a powerful sound in the Marshall tradition.
Pros :
Iconic design
Bass/treble controls
Multi connections

Cons :
Limited water resistance
Weight

6. Libratone Zipp 2: the most Pop of mobile speakers
Price : 299 €
Features : dual amplifier, 1x 10cm woofer, 1x 25mm tweeter, 2x passive radiators, Bluetooth, hands-free, WiFi, AirPlay 2, multi-speakers, 1x 3.5mm input, 1x USB port, 12h battery life, 230V charging port, 261 x 122mm, 1.5kg
The Libratone Zipp 2 is immediately recognisable by the pop colours of its red, turquoise or yellow protective cover. With its cylindrical shape it is easy to carry around by its leather strap. Hyper connected, it offers Bluetooth and WiFi. The latter allows it to integrate Amazon's Alexa voice control. An analogue input and a USB port also provide for multiple music sources.
Intended to accompany you everywhere, you will nevertheless need to take care of the Zipp 2 which is not water resistant. Ergonomics are comfortable with multiple backlit touch-sensitive control buttons on the top. It produces a 360° sound that can be customised by the multiple sound settings, including an automatic calibration that can be launched manually whenever you need it.
Pros :
Personalised sound
Alexa intergrated
Connectivity

Cons:
Average battery life
Not water resistant

7. Harman Kardon Citation 200: one speaker for both indoors and outdoors
Price : 299 €
Functions : 50 Watts, 1x 12cm woofer, 1x 25mm tweeter, Bluetooth, WiFi, AirPlay 2, 8hrs battery life, USB-C charging port, IPX4 water resistance, 178 x 219 x 172mm, 2.85kg
Most mobile speakers over €300 come equipped with Bluetooth and WiFi for dual use at home and away. This is the case with the Citation 200, Harman Kardon's portable model in their range of some ten models. It is available in black or light grey, with Kvadrat fabric covering the entire speaker. Its network connectivity is used by Google Assistant, among others.
The large cabinet brings sound reproduction benefits. Two separate speakers cover the entire audio spectrum down to the lowest frequencies, providing sound in large rooms. However, its connectivity and battery life are limited compared to the competition.
Pros :
Audio performance
Bluetooth & WiFi
Integrated Google Assistant

Cons :
No input ports
Limited battery life

8. Bose Portable Smart Speaker: the most convenient Bluetooth and WiFi mobile speaker
Price : 369 €
Features : 1x wide range, 3x passive radiators, Bluetooth, WiFi, AirPlay 2, SimpleSync pairing, 12h battery life, USB-C charging port, IPX4 water resistance, 191 x 119 x 104mm, 1.06kg
The Portable Smart Speaker is Bose's offering to complete a multi-room smart audio system. Providing optional Bluetooth or WiFi connectivity, using WiFi the speaker has voice control with either Alexa or Google Assistant. Using Bluetooth, the SimpleSync function is designed to link two Bose speakers, even if they are different models.
Through its AirPlay 2 capability, it is possible to listen to music from any application, like Qobuz for example. The battery life is fairly average, but the optional charging cradle makes for easy charging without the need to plug and unplug a cable. The 360-degree sound is reinforced through three passive radiators in the bass range to release the Bose signature sound.
Pros :
360° sound
Alexa & Google Assistant
Bluetooth & WiFi

Cons :
Connectivity
Average battery life

9. Bluesound Pulse Flex 2i + battery: high fidelity in the garden
Price : 448 €
Features : 25 Watts, 1x 10cm woofer, 1x 25mm tweeter, Bluetooth, WiFi, AirPlay 2, multi-speaker, 1x 3.5mm input, 1x optical input, 1x headphone output, 1x USB port, 6h battery life, 230V charging port, 183 x 125 x 100mm, 1.43kg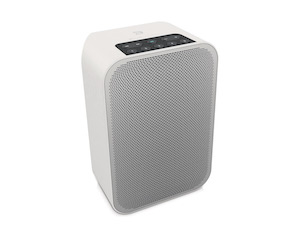 The Pulse Flex 2i is a small, wireless speaker primarily for integrating with the Bluesound ecosystem. In combination with other models from this maker, it can be used to provide sound in different rooms throughout the house or as a surround sound speaker for home cinema. But it also has the particularity of an optional battery pack that fits to its back panel to become portable.
Its connectivity is the most extensive of all the speakers in this list, notably with its two auxiliary inputs, one analogue and one optical. The comprehensive Bluesound BluOS application directly integrates Qobuz in Hi-Res. There is even an optional infrared remote control. The quality of its sound reproduction places the Flex 2i well above its competitors.
Pros :
Complete connectivity
HiFi Quality
Useful headphone outlet

Cons :
Very limited battery life
Overall size

10. Sony SRS-XG500: the portable speaker for partying
Price : 450 €
Functions : 2x 11cm woofers, 1x 25mm tweeter, Bluetooth, multi-speaker, 1x 3.5mm input, 1x mic input, 1x guitar input, 1x USB-A port, 30h battery life, 230V charging port, IP66 water resistance, 460 x 256 x 215mm, 5.6kg
The Sony SRS-XG500 is midway between a classic mobile model for mood music and a party speaker. Sony has succeeded in creating a sober design, given away only by the multicoloured LED lighting at the ends. It can be switched off. More generally, the sound coming from this speaker is designed to fill a large space thanks to its impressive components in an imposing format.
The SRS-XG500 is truly go-anywhere and multi-functional, with an auxiliary input and a USB port, as well as microphone and guitar inputs. These can all be mixed, confirming Sony's stated goal of a party sound. Indirect connectivity functions are limited in the absence of WiFi. The long battery life of 30 hours compensates for this lack.
Pros :
Complete connectivity
Battery life
For partying

Cons :
Heavy weight
No WiFi

Conclusion
The range of outdoor loudspeakers has never been wider, yet prices remain reasonable. You'll probably be making your choice based on criteria such as size, battery life and connectivity. Design is a key choice for a speaker that will often be used among family or friends. Some manufacturers have grasped this by playing up to their image, like Klipsch and Marshall, or with original colours, like Bang & Olufsen or Libratone. Some models have Bluetooth for outdoor listening and WiFi for back in the home, so you can invest in one speaker for both purposes. Practical considerations complete the picture with features such as handles, water and dust resistance, and materials that are shock and scratch resistant. All the speakers in this top list tick a number of boxes, but none of them tick them all. So you will have to choose which features you prefer: we've summarised them in the technical descriptions to make it easier for you.