With the explosion in smartphone sales and the advent of 4G, it goes without saying that consumer habits are constantly changing; just 10 years ago, streaming videos on your phone may have seemed like something from science fiction. Now, YouTube has become truly mobile, you can play video gales thanks to Cloud Gaming, and with Qobuz you can stream high-quality audio straight to your smartphone or tablet.
In an ideal world - where there is a 4G network signal and a decent data allowance - all smartphones would be up to the challenge, but unfortunately we're not there yet. Their performances are often hindered by issues with the screen or certain audio features (treatment of the sound, quality of the headphone output, quality of the integrated mini speakers...).
The good news is that, finally, manufacturers are raising their game and are producing smartphones which match the ever-changing demands of consumers across various target markets. Some models focus on image-capturing technology, others on speed, whilst others are tailored to the workplace.
Manufacturers have reached the conclusion that the buying public wants machines which can respond to a specific requirement. Whilst a smartphone Swiss army knife equivalent does not exist just yet, some models are proving to be well-equipped for audio (even if Hi-Res 24-bit is not yet the standard).
In terms of these models, we'd like to highlight the audio quality of iPhones (CD quality), worthy successors of the iPod. Amongst brands tested by Qobuz, other models of note include several by Samsung (Galaxy Note 4, Alpha and S5), the Sony Z3 and a number from HTC.
The HTC One M8, MAX and EYE have already stood out from the crowd with their capacity to play Hi-Res 24-bit/96kHz audio files. HTC have never made a particularly big deal out of this feature, but it's definitely there!
The attention to audio quality is also demonstrated in the headphones output.
At the MWC 2015 trade show in Barcelona, HTC announced the high-end HTC One M9, the brand's firsts smartphone officially announced as 100% Hi-Res in 24-bit/192 kHz. They didn't stop there, though, offering also Dolby (audio) for watching films, gaming and music, with a 5.1 virtual canal (optional), as well as the ultra-rapid Qualcomm Allplay pairing protocol (Wi-Fi/stream) and an OTG USB connection (On The Go, facilitated access, instant). Basically, exciting!
Overview of the M9 Firstly, before it passes to the expert ears of our Qobuz testers, it is worth noting that the M9 will sell for a cool €749 without add-ons. It has a 5-inch Full HD (441 ppi) screen, the new Qualcomm Snapdragon 810 and an Adreno 430 CPU. Its standard memory of 32GB can be extended with a micro SD and there are 2 capacitors of 20.7MP and 4MP (Full HD, frontal). It naturally comes with Bluetooth apt-X/NFC, a load of sensors, Android 5.0 Lollipop and a non-removable battery of 2840 mAh. It uses a nano SIM.
What it sounds like The HTC One M9 was put to the test using files in 16- and 24-bit, starting with Fleetwood Mac then passing via Thomas Enhco, Michael Jackson, Pink Floyd, and more.
The good news is that it coped well. As often happens when you "drag & drop" files from a computer to a smartphone via a USB connection, messages appeared stating that the files could not be read, when in fact they could (be careful with ALAC though; FLAC is much more reliable, being much more widely supported).
It's still a little odd to see a smartphone with files marked 'Studio Master in FLAC', but its exciting nonetheless.
So can we expect a model such as the M9 to tread on the toes of existing mid-range Hi-Res audio players? That's the question. The answer is a little complex.
Audio players are naturally a little further ahead in terms of crosstalk (separation between channels), dynamics and power (capable of even pushing high-impedance headsets) as they were designed specifically to play music. Music listening is just one of the functions a smartphone offers. However, the M9 is the most advanced in this field at present, able to play Hi-Res 24-bit audio files - and not just play them, but play them well.
It is not the first Hi-Res audio phone that we have tested - the LG G3 is also compatible - but it is the first to sound so good.
Firstly, it has plenty of energy and works well with headphones, without the need to add in an amplifier. Secondly, it sounds good in the sense that the audio texture is at a level not normally seen in dozens of other smartphones. It's nice to listen to. Thirdly, the M9 delivers a really solid sound, particularly in the higher register, with clear vocal lines and an excellent soundscape. Whilst its electronics may not be as advanced as to allow the finesse of the Astell&Kern AK100,va FiiO, a Sony or a Cowon, the M9 at least does not blend together all of the sounds into an incoherent mess.
It's such a pleasure to listen to a smartphone whose audio has some bite for once. The overall clarity is undeniable, and whilst the nuance may not be quite as great as with other Hi-Res players, it's worth remembering that the M9 is a smartphone and must be applauded for what it is: a great audiophone.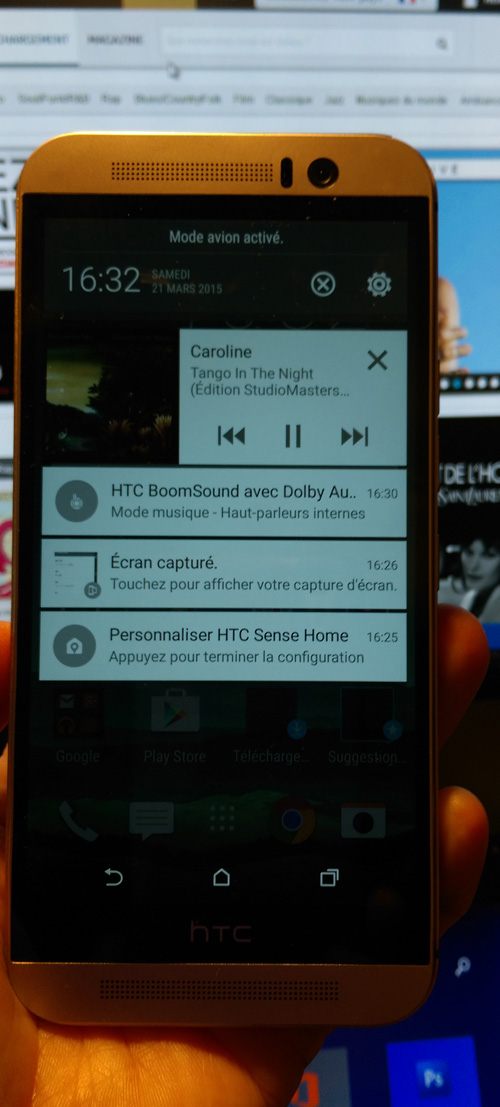 Overview of good points The first of its kind to be compatible with 24-bit Hi-Res and to actually sound good! Clear, well-defined and generally good sound Non-aggressive mid range, lovely high range Well-powered heaphones output (depending on the files) Simple organisation of music Dolby audio, Bluetooth apt-X, AllPlay Qualcomm USB OTG (On The Go, easy connection to USB DAC or others) Admirable integrated speakers

A few things to consider... Price It still can't really compare with a top-range Hi-Res player (but we can forgive them Average restitution of the bass Sound can be a little confused - a little cramped
See the specs of the M9 here Price: €749
If you are a manufacturer, importer, distributor or actor in the domain of sound reproduction and you wish to contact us, please do so using the following address: newstech@qobuz.com
If you are passionate about our Hi-Fi Guide and you wish to contact us, please do so using the following address: rubriquehifi@qobuz.com
PP Garcia for Qobuz Twitter @ppgarcia75
Original article by PATRICK-PIERRE GARCIA Translation by RACHEL HARPOLE