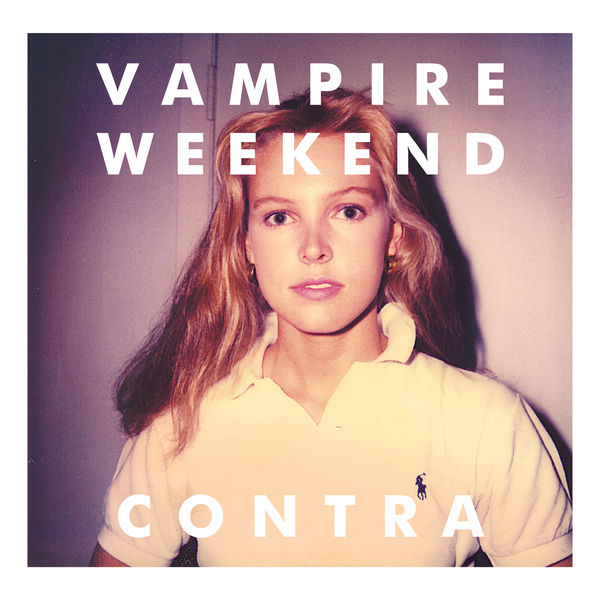 Unlimited Streaming
Enjoy this album on Qobuz apps with your subscription
Digital Download
Select Audio Quality
The scholarly Upper West Side Soweto of Vampire Weekend's debut sounded self-assured, but on Contra, they step out of their ivory tower with just as much confidence. In all senses of the term, this is a sophomore album. The band still flaunts the collegiate sense of discovery that made Vampire Weekend charming -- and sometimes too precious -- but with more maturity and creativity. Another Discovery is just as much of a force on Contra as any of the band's much-noted influences (Afro-pop, Paul Simon's Graceland): Rostam Batmanglij's electro-hip-hop-pop project with Ra Ra Riot's Wes Miles, which released its album LP after the pair found acclaim with their day jobs. While Vampire Weekend aren't as shiny and sugary as Discovery, some of that adventurousness rubbed off on Batmanglij's Contra production, which plays to the band's biggest strength: inspired juxtaposition. The album's artwork, which pairs a blonde WASP princess in a popped-collar polo shirt with the term given to Nicaraguan rebels, hints at the flair with which Vampire Weekend play mix-and-match on Contra. They throw listeners into the deep end with "Horchata," which features a four-on-the-floor beat, thumb piano, rubbery synth bass, and massed harmonies -- almost everything except the spry guitars that helped define their first album. "California English" goes farther, tweaking Ezra Koenig's yelp with Auto-Tune, the bête noire of those who value "realness" in their music; for Vampire Weekend, it's just another instrument for them to play with. On paper, Contra's hybrids seem more contrived than they actually sound: "Giving Up the Gun" fuses baile funk, house and stadium rock into a sweet melody propelled by choppy rhythms. "Diplomat's Son" is even more far-fetched and fantastic, adding samples of M.I.A. and Toots & the Maytals -- exactly the kind of things you'd expect to hear on a young globetrotter's iPod -- to nostalgic chamber pop. The album bustles with so many sounds and ideas that it challenges listeners to decide where to put their ears first, particularly on the single "Cousins," a blur of guitars and jump-cut drums that sounds like abstract punk. Despite this busyness, Vampire Weekend are looser and less cryptic than on their debut, allowing them to tell stories like "Holiday," an Iraqi war protest set to skanking guitars (ever the font snob, Koenig can't resist mentioning a headline in "96-point Futura"). Even the few quiet moments are complex: "I Think UR a Contra" closes the album by wanting, and hating, the kind of privilege that brings "good schools and friends with pools." And though the band is committed to change, the same joy that soared through Vampire Weekend pops up on "White Sky," which boasts a melody so irrepressible that Paul Simon just might want to borrow it. With Contra, Vampire Weekend make Auto-Tune and real live guitars, Mexican drinks, Jamaican riffs and Upper West Side strings belong together, and this exciting lack of boundaries offers more possibilities than anyone could have expected. ~ Heather Phares
More info
You are currently listening to samples.
Listen to over 40 million songs with an unlimited streaming plan.
Listen to this album and more than 40 million songs with your unlimited streaming plans.
1 month free, then £9.99 / month
Vampire Weekend, interprète
Vampire Weekend, interprète
Vampire Weekend, interprète
California English
00:02:30
Vampire Weekend, interprète
Vampire Weekend, interprète
Vampire Weekend, interprète
Vampire Weekend, interprète
Giving Up The Gun
00:04:46
Vampire Weekend, interprète
Vampire Weekend, interprète
I Think Ur A Contra
00:04:29
Vampire Weekend, interprète
Album Description
The scholarly Upper West Side Soweto of Vampire Weekend's debut sounded self-assured, but on Contra, they step out of their ivory tower with just as much confidence. In all senses of the term, this is a sophomore album. The band still flaunts the collegiate sense of discovery that made Vampire Weekend charming -- and sometimes too precious -- but with more maturity and creativity. Another Discovery is just as much of a force on Contra as any of the band's much-noted influences (Afro-pop, Paul Simon's Graceland): Rostam Batmanglij's electro-hip-hop-pop project with Ra Ra Riot's Wes Miles, which released its album LP after the pair found acclaim with their day jobs. While Vampire Weekend aren't as shiny and sugary as Discovery, some of that adventurousness rubbed off on Batmanglij's Contra production, which plays to the band's biggest strength: inspired juxtaposition. The album's artwork, which pairs a blonde WASP princess in a popped-collar polo shirt with the term given to Nicaraguan rebels, hints at the flair with which Vampire Weekend play mix-and-match on Contra. They throw listeners into the deep end with "Horchata," which features a four-on-the-floor beat, thumb piano, rubbery synth bass, and massed harmonies -- almost everything except the spry guitars that helped define their first album. "California English" goes farther, tweaking Ezra Koenig's yelp with Auto-Tune, the bête noire of those who value "realness" in their music; for Vampire Weekend, it's just another instrument for them to play with. On paper, Contra's hybrids seem more contrived than they actually sound: "Giving Up the Gun" fuses baile funk, house and stadium rock into a sweet melody propelled by choppy rhythms. "Diplomat's Son" is even more far-fetched and fantastic, adding samples of M.I.A. and Toots & the Maytals -- exactly the kind of things you'd expect to hear on a young globetrotter's iPod -- to nostalgic chamber pop. The album bustles with so many sounds and ideas that it challenges listeners to decide where to put their ears first, particularly on the single "Cousins," a blur of guitars and jump-cut drums that sounds like abstract punk. Despite this busyness, Vampire Weekend are looser and less cryptic than on their debut, allowing them to tell stories like "Holiday," an Iraqi war protest set to skanking guitars (ever the font snob, Koenig can't resist mentioning a headline in "96-point Futura"). Even the few quiet moments are complex: "I Think UR a Contra" closes the album by wanting, and hating, the kind of privilege that brings "good schools and friends with pools." And though the band is committed to change, the same joy that soared through Vampire Weekend pops up on "White Sky," which boasts a melody so irrepressible that Paul Simon just might want to borrow it. With Contra, Vampire Weekend make Auto-Tune and real live guitars, Mexican drinks, Jamaican riffs and Upper West Side strings belong together, and this exciting lack of boundaries offers more possibilities than anyone could have expected. ~ Heather Phares
About the album
1 disc(s) - 10 track(s)
Total length:

00:36:40
2010 Vampire Weekend under exclusive license to XL Recordings Ltd. 2010 Vampire Weekend under exclusive license to XL Recordings Ltd.
Distinctions:
Improve this page

Why buy on Qobuz...
Stream or download your music

Buy an album or an individual track. Or listen to our entire catalogue with our high-quality unlimited streaming subscriptions.

Zero DRM

The downloaded files belong to you, without any usage limit. You can download them as many times as you like.

Choose the format best suited for you

Download your purchases in a wide variety of formats (FLAC, ALAC, WAV, AIFF...) depending on your needs.

Listen to your purchases on our apps

Download the Qobuz apps for smartphones, tablets and computers, and listen to your purchases wherever you go.