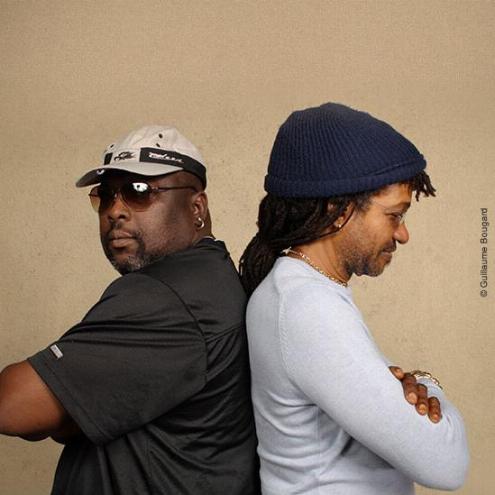 Attention légende, Sly & Robbie soit le batteur Sly Dunbar et le bassiste Robbie Shakespeare figurent parmi les rares artistes à avoir acquis une énorme notoriété surtout au service des autres. Rien qu'en Jamaïque, Sly & Robbie ont joué avec pratiquement tous les grands du reggae, souvent dans des albums de légende, et formé Black Uhuru. Sur la scène internationale, ils sont aussi bien d'implacables mercenaires capables de passer sans sourciller de Bob Dylan à Britney Spears, en passant par Serge Gainsbourg, que d'être les maîtres d'oeuvre de grands disques avec Grace Jones, Joe Cocker, ou Sinéad O'Connor. Malgré ces états de service hallucinants, Sly & Robbie n'ont pas réalisé pour eux-même - hormis avec Black Uhuru - d'album à la mesure de leur talent. Leur discographie pléthorique et extrêmement variée ne permet de ressortir que
Two Rhythms Clash
(1989),
Dub for Tubs: A tribute to King Tubby
(1990),
Drum & Bass Strip to the Bone
(1999) avec Howie B.,
Dub Revolutionaries: Sly & Robbie Meet the Mad Professor
(2004), ou
Unmetered Taxi
(2004). C'est encore sur scène que cette paire rythmique d'exception montre le mieux sa phénoménale complémentarité.
© ©Copyright Music Story Francois Alvarez 2018
Lire la suite
Artistes similaires
Les albums
182 albums triés par Plus distingués
Sly & Robbie dans le magazine
Sly & Robbie & Nils

Quand le plus célèbre rythmique de Jamaïque rencontre la trompette planante de Nils Petter Molvar...