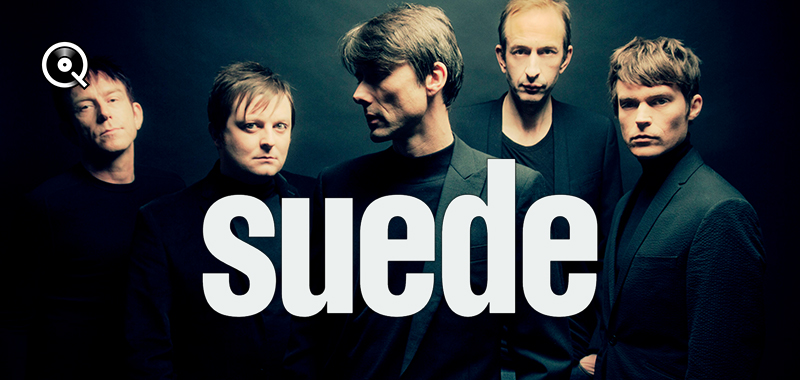 Unlimited Streaming
Enjoy this playlist on Qobuz apps with your subscription
Subscribe
Enjoy this playlist on Qobuz apps with your subscription
Brit Pop of the 90s was not exclusively dominated by Oasis and Blur, England was full of treasures, offering different takes on the genre. Formed in London in 1989, Suede is one of these different groups. The band led by Brett Anderson on vocals and Bernard Butler on guitar had one idol and obsession: Bowie. An influence that is at the heart of their eponymo...
See more
You are currently listening to samples.
Listen to over 80 million songs with an unlimited streaming plan.
Listen to this playlist and more than 80 million songs with our unlimited streaming plans.
From €12,50/month
About Playlist
Brit Pop of the 90s was not exclusively dominated by Oasis and Blur, England was full of treasures, offering different takes on the genre. Formed in London in 1989, Suede is one of these different groups. The band led by Brett Anderson on vocals and Bernard Butler on guitar had one idol and obsession: Bowie. An influence that is at the heart of their eponymous album, released in March 1993. A record that reached the top of the charts and even won the prestigious Mercury Prize. Thirty years and ten albums later, the band is still very much alive and active, despite having been on a 7 year hiatus in 2003 after the commercial failure of the album "A New Morning". In great shape since their return in 2013 with 'Bloodsports', Suede celebrated their longevity with a compilation album, 'Beautiful Ones: The Best of Suede 1992-2018' and they are back today at the top of their game with the very catchy 'Autofiction'. Here is our own 'best of Suede', consisting of 55 essential tracks. Photo © Roger Sargent
Britpop in 10 Albums
by Charlotte Saintoin, Translated by Jack Butler
"If punk was about getting rid of hippies, then I'm getting rid of grunge." It was with this sentence from Damon Albarn in 1993 that England invaded the stage previously dominated by Nirvana and Seattle grunge. Britpop is deeply linked to politics and local identity and emerged just as Tony Blair and New Labour were entering the scene. English romanticism was once again becoming attractive compared to the American identity, which was considered too hollow in the UK. Make way for "Cool Britannia".
Supergrass - I Should Coco (1995)
"
I Should Coco didn't sound like anything else that was going on – Oasis sounded like they were on Mogadon compared with it. We soon got lumped in with Britpop though.
" This is the view that
Gaz Coombes,
only 19 at the release of
Supergrass
' debut album, holds today. Behind this striking album cover lied one of the greatest albums of the decade, selling over 1 million copies worldwide, half of which were sold in the UK. The trio, comprised of Gaz Coombes, Danny Goffey on drums and Mick Quinn on the bass, caught the eye of
Parlophone
following the release of their single
Caught by the Fuzz
on the independent label
Backbeat
, and in 40 minutes their debut album encapsulated the punk pop spirit inherited from
The Kinks
,
The Rolling Stones
,
The Jam
and
Buzzcocks
.
Alright
serves as the anthem of this album from which a candid and incandescent freshness emerges. "
We are young, we run green / Keep our teeth nice and clean / See our friends, see the sights / Feel Alright
", Gaz repeats. In contrast to Radiohead's sunken melancholy, Supergrass brought us some electric rejuvenation.
Oasis - (What's the Story) Morning Glory? (1995)
"
Liam got a Rolex. I got a Rolls Royce. Which is brilliant, cos I can't drive and Liam can't tell the time.
" Sitting at the top of the charts and on the glossy pages of magazines, the megalomaniacal Gallagher brothers continued their rise with
(What's the Story) Morning Glory?
after having achieved their rock-star status as promised in
Definitely Maybe
(
Rock'n'roll star
). Alan White replaced Tony McCaroll on drums while Owen Morris was sent to production. Despite a serious altercation between Noel and Liam, the recording was quickly completed. Beginning with
Hello
, this follow-up album contains one rock anthem after another, all written by Noel. It is on this famous record that we find the cult hits
Wonderwall
,
Don't Look Back in Anger
,
Some Might Say
and
Champagne Supernova
with a solo by
Paul Weller
. Between saturated rock, pop treasures and bare ballads, Noel – who kept all compositions to himself until 2 weeks before the sessions – outdid himself.
(What's the Story) Morning Glory? is
a more refined opus that's richer and just as loud as the previous, from the piano of
Don't Look Back in Anger
to the strings of
Wonderwall
and the harmonica of
The Swamp Song
. With 15 million albums sold - a result Alan McGee had predicted -
Morning Glory
gave birth to Oasismania, from which the Gallaghers would never get away.
1995 was the ultimate year for Britpop. It was the year of the release of
Different Class
and the hit
Common People
, in which
Jarvis Cocker
wrote about the unhealthy fascination for the working-class exhibited by the Greek woman he was hitting on. Cocker and
Pulp
were not born into Britpop and had in fact existed almost twenty years earlier. In Sheffield, 1978, Jarvis and his band were putting out records without any success, missing out on their breakthrough with every meeting. With
His "N' Hers
(the production of which was hated by Cocker), but especially with
Different Class
, his fifth effort,
Pulp
finally started surfing a wave that took them a long way. Taking a stark look at class struggles, the album mixes English pop, protean disco (
Disco 2000
), 6-minute long synthetic experiments (
F.E.E.E.L.I.N.G.C.A.L.L.E.D.L.O.V.E
) and the glam rock of Bowie and
Roxy Music
to create a perfect formula ready to be gobbled up by the Britpop phenomenon. With Bill Brummond having refused, Chris Thomas was on production, and he made magic, especially on
Common People
which Cocker had half-heartedly drafted on a small Casio. True outsiders with the world listening,
Pulp
, with their disorientating pop and raw, sexually charged lyrics, became an unfiltered voice and one of the most sharp and fascinating groups of a strange era.
Suede – Coming Up (1996)
With the competition being dominated by Blur and Oasis,
Suede
were doing everything they could to stay out of this sphere which they considered too structured. Despite this, Brett Anderson still believes they were very much part of it. After
Suede
(1993) and
Dog Man Star
(1994), guitarist Bernard Butler left the South London combo following disagreements in the middle of the recording process, tearing apart the dynamic duo. Regardless, the pale, slender and decadent Brett Anderson shined with the highly successful
Coming Up
, including the brilliant tracks
Trash
and
Beautiful Ones
, as well as
Filmstar
,
Lazy
the 7 minutes of romantic pop that is
The Chemistry Between Us
. Undeniably inspired by Bowie and the glam rock of the 70s, this third opus moves away from the complex darkness of the previous records to an abundance of high-pitched riffs and dramatic touches. This is an album that almost crosses over to punk, with its cult cover being designed by Peter Saville, who, alongside Joy Division, was Anderson's childhood hero.
The Verve - Urban Hymns (1997)
Is
Bitter Sweet Symphony
the very quintessence of
The Verve
? Inspired by the Stones, this hit didn't do much for
Richard Ashcroft
's band other than give them a lawsuit against Allen Klein, founder of
ABKCO
records which also houses Jagger's music.
The Verve
had redeemed the rights to use The Stones'
The Last Time
(which already included the
Staples Singers
), but Klein felt they had drawn too deep and claimed royalties for the song. But this isn't the only good song to come out of
Urban Hymns
, which came about following the trip-hop wave. For this album, Ashcroft and the other members of The Verve lifted their noses off the coke table for a while. The group's arrangements elegantly paint a picture of English melancholy, punctuated by fluffy mornings (
Velvet Morning
) that drugs can't sweeten (
The Drugs Don't Work
). First shoegaze with
A Storm in Heaven
, then funk on
A Northern Soul
,
The Verve
went whichever way the wind took them. Between the leisurely pop of Oasis (
Lucky Man
,
Weeping Willow
) and the heavy pop of Radiohead (
Space and Time
),
The Verve
retained their melodic heritage, made of bombastic arrangements and effect pedals (
The Rolling People
), as testified by the 15-minute long
Come On/Deep Freeze
. Released at the dusk of Britpop,
Urban Hymns
rekindled the flame a few moments before it went out for good.
Go on the Qobuz apps to read the full article...
Join Qobuz to read the full article...
Read more on Qobuz
Unlimited Streaming
Enjoy this playlist on Qobuz apps with your subscription
Subscribe
Enjoy this playlist on Qobuz apps with your subscription

Why buy on Qobuz...
Stream or download your music

Buy an album or an individual track. Or listen to our entire catalogue with our high-quality unlimited streaming subscriptions.

Zero DRM

The downloaded files belong to you, without any usage limit. You can download them as many times as you like.

Choose the format best suited for you

Download your purchases in a wide variety of formats (FLAC, ALAC, WAV, AIFF...) depending on your needs.

Listen to your purchases on our apps

Download the Qobuz apps for smartphones, tablets and computers, and listen to your purchases wherever you go.