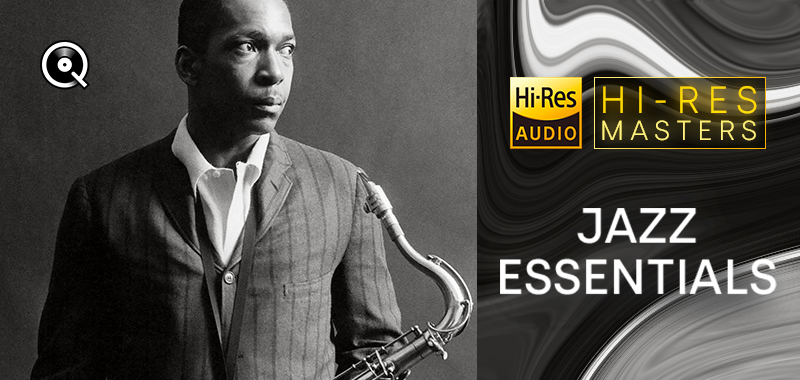 Musique illimitée
Profitez de cette playlist sur les apps Qobuz grâce à votre abonnement
Souscrire
Profitez de cette playlist sur les apps Qobuz grâce à votre abonnement
Profitez du jazz dans la meilleure qualité audio possible. 50 titres de légende en Hi-Res, avec Miles Davis, John Coltrane, Duke Ellington, Thelonious Monk, Bill Evans Trio, Art Blakey & The Jazz Messengers, Ornette Coleman, Charles Mingus, Cannonball Adderley, Wayne Shorter, Wes Montgomery, Coleman Hawkins, Herbie Hancock, Ray Charles, Keith Jarrett, Stan G...
Voir plus
Vous êtes actuellement en train d'écouter des extraits.
Écoutez plus de 70 millions de titres avec votre abonnement illimité.
Écoutez cette playlist et plus de 70 millions de titres avec votre abonnement illimité.
CHF 0 puis CHF 22.99 / mois
À propos
Profitez du jazz dans la meilleure qualité audio possible. 50 titres de légende en Hi-Res, avec Miles Davis, John Coltrane, Duke Ellington, Thelonious Monk, Bill Evans Trio, Art Blakey & The Jazz Messengers, Ornette Coleman, Charles Mingus, Cannonball Adderley, Wayne Shorter, Wes Montgomery, Coleman Hawkins, Herbie Hancock, Ray Charles, Keith Jarrett, Stan Getz, Nina Simone, Louis Armstrong, Ella Fitzgerald, Diana Krall, Norah Jones, Billie Holiday...

Photo : John Coltrane
Le jazz nordique en 10 albums
Hiver, grands espaces, nature en majesté… On réduit vite la Scandinavie aux éternels mêmes clichés. Le jazz n'échappe pas à la règle. Pourtant, le Danemark marche sur les brisées de la tradition nord-américaine, la Norvège est attirée par l'expérimentation et la Suède préfère ne pas trancher en s'immisçant entre les deux. Malgré ces différences, on parle invariablement de jazz scandinave comme d'une grande famille. Depuis le début des années 70, les musiciens venus du froid ont imposé une singularité perpétuée par la génération actuelle. Coup de zoom sur cette vraie fausse famille en 10 albums choisis avec subjectivité dans une discographie vaste comme un fjord.
Bobo Stenson Trio – Serenity (2000)
Il faut vite oublier cette étiquette de Keith Jarrett suédois que certains ont longtemps collée dans le dos de Bobo Stenson. Même s'il a beaucoup joué avec les trois complices scandinaves de l'Américain (Jan Garbarek, Palle Danielsson et Jon Christensen), Stenson n'a cessé de nourrir sa musique différemment. Après avoir passé les 60's à accompagner les stars du jazz de passage à Stockholm (Sonny Rollins, Stan Getz, Don Cherry, Gary Burton), ce pianiste au toucher subtil a pris le temps de se nourrir d'une grande variété de sources et d'influences. Sa musique ne s'est jamais limitée à un territoire exclusif, à une entité monolithique. Pas le genre du Suédois, qui embarque son univers dans de multiples recoins de la musique improvisée, qu'elle soit jazz ou autre. De quoi être en phase avec l'esthétique ECM, label dont il est l'un des éminents poulains… Sur Serenity, son trio suédo-norvégien avec Anders Jormin et Jon Christensen sculpte une sorte d'Everest du trio piano/basse/batterie. Mêlant leurs propres compositions à des pièces aussi bien signées Wayne Shorter que Silvio Rodriguez, Alban Berg, Charles Ives, Hanns Eisler ou Lorens Brolin, les trois hommes inventent une sémantique bien à eux, centrée sur la mélodie. Même dans leurs improvisations les plus aventureuses, Bobo Stenson et sa rythmique pensent à ne jamais casser le fil qui relie ces compositeurs et ces périodes disparates. La tradition jazz, la musique folklorique européenne ou cubaine, la musique classique du XXe siècle, tout ne fait qu'un ! Et comme souvent chez ce genre de musiciens toujours à l'écoute, le silence et l'espace sont des armes de prédilection savamment maniées.

E.S.T. (Esbjörn Svensson Trio) – Seven Days of Falling (2003)
Durant ses quinze années d'existence interrompues par la mort accidentelle prématurée de son leader, le percussif trio d'Esbjörn Svensson n'a jamais fait de pause. Avec le batteur Magnus Öström et le bassiste Dan Berglund, le pianiste suédois sprintait sans se poser de questions. On croyait la grande histoire du trio jazz piano/basse/batterie une affaire pliée, c'était sans compter sur ces cascadeurs de la note bleue qui influenceront des hordes de confrères durant les années 90… Au départ, l'entreprise pouvait sentir la poudre aux yeux. Mais Svensson n'était pas un gentil pianiste de jazz lorgnant en touriste le rock ou la drum'n'bass… Comme Seven Days of Falling le prouve, l'âme d'E.S.T. restait viscéralement jazz et savante. Au sens classique du terme. Sur ce disque de fin 2003, la formation fête une décennie d'existence en affichant une complicité sans faille. Plus que jamais, trois personnalités pour une seule voix. Ils pouvaient bien citer Radiohead, The Police, Deep Purple et Aphex Twin comme leurs formations fétiches, l'essence des ballades Ballad for the Unborn, Believe, Beleft, Below et Why She Didn't Come est ailleurs. Dans la finesse avec laquelle ils invitent l'espace et le silence – les notes qu'on ne joue pas plutôt que celles qu'on joue – comme dans l'intelligence avec laquelle Svensson, Öström et Berglun enlacent leurs rythmes autour de leurs mélodies (Seven Days of Falling) ou qu'ils épurent à l'extrême leur art et optent pour le répétitif (Did They Ever Tell Cousteau?). Dans sa capacité à réaffirmer ses valeurs et à les balayer aussi vite, Seven Days of Falling est l'album qui ressemble le plus et le moins à E.S.T.. C'est aussi leur plus beau.

Mette Henriette – Mette Henriette (2015)
Un double album pour premier disque. ECM comme maternité. Et Anton Corbijn pour vous tirer le portrait sur la pochette. Pas de doute, Mette Henriette Martedatter Rølvåg a fait une entrée remarquée sur la scène jazz internationale en 2015. La jeune saxophoniste norvégienne originaire de Trondheim corse même un peu plus ce premier chapitre en scindant son disque en deux : une première partie en trio avec la violoncelliste Katrine Schiøtt et le pianiste Johan Lindvall, et une seconde en compagnie d'un groupe de 13 musiciens avec trompette, trombone, bandonéon, piano, contrebasse, batterie et les cordes du Cikada Quartet. La première sensation qui se dégage de ce superbe et dense double opus est un sentiment de sérénité chambriste qu'on ne pourra s'empêcher de relier à la terre d'origine de son auteure. Tout ici est murmure, lente respiration, regard bienveillant et avancée en apesanteur. Aussi bien infusé au jazz qu'au classique, l'album comprend 1 heure 40 de musique composée sur une décennie. La musique plus que son instrument, c'est ce que Mette Henriette met exclusivement en exergue. Et ses improvisations s'apparentent souvent plus à des textures qu'à des phrases articulées. La relation qu'elle entretient avec ses multiples complices est d'une rare intensité. L'espace donne même à ce disque une ampleur folle, que la saxophoniste étoffe sur scène en concevant des scénographies, des chorégraphies et des installations de lumières. Impressionnant.

Hanna Paulsberg Concept – Eastern Smiles (2016)
Et si la fille de Sonny Rollins était… norvégienne ?! Le cri puissant que pousse Hanna Paulsberg a beau descendre du tutélaire auteur de The Bridge, il n'en est pas moins très personnel. A la tête de son quartet baptisé Hanna Paulsberg Concept et composé du pianiste Oscar Grönberg, du batteur Erik Nylander et du contrebassiste Trygve Fiske, la saxophoniste trentenaire originaire de Rygge, fille d'un batteur de jazz, signe des compositions qu'elle n'interprète pas qu'avec énergie et robustesse. Sur ce troisième album de post-bop luxuriant publié en 2016, le son de cette virtuose du ténor sait se faire plus caressant. Chaque phrase est fluide voire élégante et le spectre de Stan Getz – dont la musique la poussa à apprendre le sax (Café Montmartre est son disque de chevet) – n'est jamais bien loin. Et puis Paulsberg ne surjoue jamais ce qu'elle raconte, évite la complaisance et les effets de anche gratuits. Cette large palette a même séduit un cador comme le pianiste Chick Corea qui l'invitera à jouer à ses côtés… Trois ans après Eastern Smiles, Paulsberg élargit son spectre avec le mystique et spirituel Daughter of the Sun, un disque dédié à la reine de l'Égypte antique qui deviendra pharaon, Hatchepsout, conçu avec le trompettiste suédois Magnus Broo et qu'elle ancre davantage dans la tradition africaine.

Geir Sundstøl – Brødløs (2018)
Cet album est un prétexte. Non pas qu'il soit anecdotique, bien au contraire, mais le label qui l'héberge est le plus passionnant des années 2010. Et aborder le jazz scandinave sans faire escale ici serait inconcevable. Fondé à Haugesund, petite ville portuaire située sur la côte ouest de la Norvège par Andreas Meland, Hubro (chouette en norvégien) reflète à la perfection l'effervescence de la scène jazz locale contemporaine. Jazz mais pas que. Comme finalement le grand aîné ECM – dont il serait une version bien plus moderne et bien plus DIY –, Hubro prend racine dans ce genre musical pour très vite bifurquer vers tous les types de musiques improvisées et s'aventurer dans le post-rock, l'électro, le folk, le rock, l'ambient… On ne trouve que de fascinants ovnis dans cette écurie. A l'image de ce Brødløs, troisième album du guitariste et multi-instrumentiste Geir Sundstøl. Une sorte de vraie fausse BO de western transposé dans un fjord, réalisée avec la complicité d'autres savants fous nordiques comme Nils Petter Molvær, Erland Dahlen, David Wallumrød, Mats Eilersten, Jo Berger Myhre, sans oublier l'incroyable joueuse de tablas Sanskriti Shrestha. Il y a du Bill Frisell et du Brian Eno chez Sundstøl qui malaxe sa musique comme une pâte à modeler sonore. Pedal steel, basse six cordes, harmonica, banjo, mandoline et Moog, il a vidé son grenier pour composer ce trip fascinant aux frontières de l'ambient. Fascinant comme tout ce qu'Andreas Meland propose sur son label Hubro. La légende dit même que Brødløs est le disque qu'il a le plus écouté…
Allez sur les applications Qobuz pour lire l'article complet...
Rejoignez Qobuz pour lire l'article complet...
Lire la suite sur Qobuz

Pourquoi acheter sur Qobuz ?
Streamez ou téléchargez votre musique

Achetez un album ou une piste à l'unité. Ou écoutez tout notre catalogue en illimité avec nos abonnements de streaming en haute qualité.

Zéro DRM

Les fichiers téléchargés vous appartiennent, sans aucune limite d'utilisation. Vous pouvez les télécharger autant de fois que vous souhaitez.

Choisissez le format qui vous convient

Vous disposez d'un large choix de formats pour télécharger vos achats (FLAC, ALAC, WAV, AIFF...) en fonction de vos besoins.

Écoutez vos achats dans nos applications

Téléchargez les applications Qobuz pour smartphones, tablettes et ordinateurs, et écoutez vos achats partout avec vous.