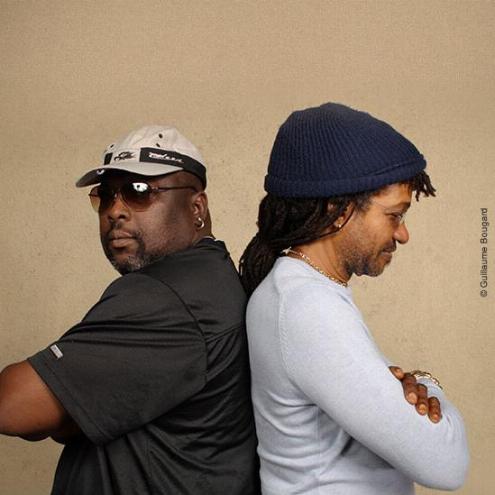 Vorsichtige Schätzungen sprechen von 40.000 produzierten Songs. An mehr als 200.000 Stücken sollen sie mitgewirkt haben. Auch wenn man bedenkt, dass diese beiden mit nahezu jedem jamaikanischen Artist von Bedeutung, ein paar weniger wichtigen Landsleuten und darüber hinaus offenbar mit jedem zweiten Künstler weltweit zusammengearbeitet haben, atemberaubende Zahlen. Sly und Robbie sind seit Jahrzehnten im Geschäft und beweisen mit "Rhythm Doubles" dass das dienstälteste Produzenten-Team im Reggae 2006 noch lange nicht zum Alteisen gehört. Lowell Charles Dunbar kommt am 10. Mai 1952 in Kingston, Jamaika zur Welt. Das Schlagzeug erweist sich als das Instrument der Wahl. Grenzenlose Bewunderung für Sly Stone trägt ihm bald den Beinamen Sly ein. Sly Dunbar trommelt in verschiedenen jamaikanischen Bands, darunter die Aggrovators und die Upsetters. Deren Single "Night Doctor" beeindruckt Produzent Lee Perry derart, dass er den jungen Drummer wieder und wieder zu Studioaufnahmen heran zieht. 1974 schließt Sly sich aber zunächst einmal der Formation Skin Flesh & Bones an und gründet zusammen mit seinem Bandkollegen das kleine Label Taxi. Dieses konzentriert sich weitgehend auf die Veröffentlichung von Material der Band und ihrer Mitglieder - und besteht nicht besonders lange. Robert "Robbie" Shakespeare, ein Jahr jünger als Sly, erwirbt sich ebenfalls bereits in jungen Jahren einige Studio-Erfahrung. Der Bassist ist unter anderem an den Aufnahmen zu Bob Marleys "Stir It Up" beteiligt. Wie auch Sly spielt er in verschiedenen Kingstoner Clubs und genießt einen exzellenten Ruf. Als 1975 Produzent JoJo Hookim die beiden zu seiner Studioband holt, aus denen die Revolutionaires hervor gehen sollen, ahnt noch niemand, dass er damit eine musikalische Ehe stiftet, die nicht nur die jamaikanische Musik-Szene mehrfach erschüttern wird. Sly und Robbie, die zu diesem Zeitpunkt bereits voneinander gehört und sich vom Können des jeweils anderen ein Bild gemacht haben, entdecken gemeinsame Vorlieben: Beide feiern sie den typischen Motown- und Phillysound, stehen zudem auf Country & Western und produzieren mit Leib und Seele Reggaemusik. Die erste gemeinsame Arbeit an Jimmy Cliffs "Follow My Mind" soll der Beginn einer endlos produktiven Partnerschaft werden: Die Rhythm Twins haben sich gefunden und nehmen umgehend einen reichlich seltsam anmutenden Auftrag an: Serge Gainsbourg bittet sie, sich um die Produktion seines Albums "Aux Armes Et Cetera" zu kümmern. In diesem Zusammenhang begleiten sie ihn auf seiner Frankreich-Tour. 1976 breitet sich der Ruf des Duos weiter aus. Der von ihnen kreierte Rocker's Beat löst den One Drop-Style ab. In den Reihen der Backing-Band von U-Roy touren sie durch Großbritannien. Bereits Mitte der 70er betätigen sie sich als Dub-Mixer. Neben Studioarbeit (zu den Partnern zählen Horace Andy, The Mighty Diamonds, Prince Far-I und Culture) und dem Engagement bei den Aggrovators bringen sie den Stein für eine langlebige Kollaboration mit Peter Tosh ins Rollen. Mit ihm nehmen sie fünf Alben auf und begleiten ihn als Mitglieder seiner Band Word Sound & Power auf ausgedehnten Touren durch die USA und Europa. Zusammen mit Peter Tosh und Mick Jagger entsteht "(Keep On Walking) Don't Look Back", der erste internationale Nr.1-Erfolg. Die verdienten Kröten werden eisern zusammen gehalten, bis 1978 das Geld für die Gründung eines eigenen Labels ausreicht. In Erinnerung an Slys gescheiterten ersten Versuch erhält das junge Unternehmen den Namen Taxi. Unter diesem Dach finden (Aufzählungen in diesem Artikel sind stets mit dem Zusatz "
neben zahlreichen anderen
" zu versehen) Max Romeo und Black Uhuru ein Zuhause. Für letztere nehmen Sly und Robbie sechs Alben auf. Zwei weitere folgen, nachdem Sänger Michael Rose von Junior Reid abgelöst wurde. Den ersten Chart-Hit landet Taxi mit Gregory Isaacs "Soon Forward". Sly und Robbie arbeiten (wir erinnern uns bitte an die obige Anmerkung) mit Bunny Wailer, Barrington Levi und Burning Spear. In den frühen 80ern führen sie den Rub-a-Dub-Sound ein. Wann Sly Dunbar dazwischen Zeit für diverse Solo-Singles und -Alben findet, bleibt ein Mysterium. 1982 lenkt das Black Uhuru-Werk "Chill Out" internationales Augenmerk auf "Drumbar & Basspear", die fortan als die beste Rhythmusgruppe unter der Sonne gehandelt werden. Die beiden begleiten eine Tournee der Rolling Stones. Taxi geht einen Vertriebs-Deal mit Island ein: Auf diese Weise entsteht eine Verbindung zu Grace Jones, für die Sly und Robbie insgesamt drei Longplayer auf den Weg bringen. Daneben spielen und produzieren sie mit Joe Cocker, Bob Dylan, Herbie Hancock, und und und ... Die legendären Skatelites spielen 1984 ein Album gemeinsam mit der Taxi Gang ein. Sly und Robbie entdecken und pushen (unter anderem, versteht sich) Ini Kamoze. Mehr und mehr gewinnt Dub an Einfluss. Kombiniert mit Einflüssen aus Funk und Hip Hop macht sich das im Output von Sly und Robbie bemerkbar. 1989 entsteht unter Beteiligung von KRS-One, dessen Boogiedown Productions und Rap-Ikone Queen Latifah das Album "Silent Assassin". Die Kombination Sly, Robbie und Erfolgsproduzent Bill Laswell dagegen erntet von einigen Seiten harsche Kritik: Laswell, der an "Language Barrier" (1985) und "Rhythm Killers" (1987) beteiligt war, habe keinen Gespür für Beats, heißt es da. Seit Mitte der 80er Jahre bewegt sich der Trend hin zu computerprogrammierter Musik. Auch diese Entwicklung zieht an Robbie und besonders Sly nicht vorbei: Der Drumcomputer wird zu einem wesentlichen Element in ihren Produktionen. Letztmalig präsentiert Sly auf "The Summit" live gespieltes Schlagzeug. Die Beats sind in Machart und Präzision bereits kaum von maschinenproduzierten Drums zu unterscheiden. ´ Während bei Sly die Technik Einzug hält, sitzt Bassmann Robbie immer öfter an den Keyboards. Zahlreiche Produzenten bauen auf Wucht und Rhythmus der Riddim Twins. Rundherum beginnt der Aufstieg einer neuen musikalischen Spielart: Raggamuffin. Anfang der 90er tut sich Sly einerseits mit Peter Turner und Maureen Sheridan, andererseits mit Bedrose Malvo zusammen. Die erste Kombination trägt unter anderem Sorge für Junior Reid, das zweite Team arbeitet mit Spragga Benz und Mad Cobra. Das Teamwork mit Robbie Shakespeare leidet darunter nicht. Gemeinsam produzieren sie Tracks für Shabba Ranks, Beenie Man und Luciano. Mit "Bam Bam" und "Murder She Wrote" für Chaka Demus & Pliers verschaffen Sly und Robbie der Reggae-Gemeinde weitere Dauerbrenner. Auf "Remember Precious Times", das 1992 erscheint, covern die beiden klassische Roots- und Reggae-Tunes. 1996 bündelt die Compilation "Hail Up The Taxi" ausgewählte Studioproduktionen aus der ersten Hälfte der Dekade. Die Flut der Veröffentlichungen reißt nicht ab, wenngleich der Stern von Sly und Robbie in der ausgehenden 90ern ein wenig zu sinken scheint. Dagegen wird 1998 massiv angegangen: Für ihr Album "Friends" laden Sly und Robbie Freunde wie Mick Hucknall und Simply Red und Ali Campbell von UB 40 ein. "Friends" nähert Reggae und Pop stark aneinander an und kassiert einen Grammy für das beste Reggae-Album. Mit Andrew Bee begeben sich Sly und Robbie unter dem Namen X-Uhuru auf Comeback-Tour. Nicht jedem schmeckt der Erfolg: "
Mit echtem alten, kraftvollen, körperwarmen Reggae hat das so viel zu tun wie Bryan Adams mit Blues
", nölt ein Kritiker des Rolling Stone-Magazins. 2001 hilft Elektroproduzent Howie B. bei "Strip To The Bone". Sly und Robbie liefern Musik für Kino- und Fernsehproduktionen, legen einige Dub-Alben nach und verwursten mittlerweile auch Einflüsse aus Latin, R'n'B und natürlich Dancehall. Die Begegnung mit dem Jazz errfolgte bereits 2000 in der Person von Monty Alexander. 2003 kompilieren sie für die "Late Night Tales"-Serie auf Azuli Records ein DJ-Mix-Album. Mittlerweile drei Jahrzehnte im Geschäft, blicken sie auf insgesamt vier Grammys zurück. Ihre Liste der Kollaborationspartner reicht von Toots Hibbert zu Sean Paul und Michael Franti, von Sting, Santana und Robert Palmer über Tricky zu Lil Jon und Fat Joe. An einen Rückzug der beiden ist nicht zu denken. 2004 liegt mit "Version Born" ein weiteres Album vor. Im Frühjahr des Folgejahres touren Sly und Robbie mit Tony Rebel und Half Pint durch die Vereinigten Staaten, im Sommer mit Third Worlds Bunny Rugs durch Europa, im Herbst begleiten sie Sinead O'Connor. 2006 soll "Rhythm Doubles" an den Erfolg von "Friends" anknüpfen: Die Gästeliste umfasst mit Lady Saw, Wyclef Jean, Bounty Killer, Elephant Man, T.O.K., Maxi Priest und Wayne Marshall einige der schwergewichtigsten Namen im aktuellen Reggae-, Ragga- und Dancehall-Zirkus. Touren und Aufnahmen, alleine oder mit Kollegen, deren Bandbreite von Jovanotti bis Paul McCartney reicht, schließen sich an. Sly und Robbie sind mittlerweile seit Jahrzehnten im Groove-Geschäft und zeigen keinerlei Verschleißerscheinungen. Ungebrochen unterstützen sie neben den ganz großen Namen auch immer wieder Newcomer und ebnen ihnen mit Bass und Drums den Weg ins Business. Eine besondere Zusammenarbeit unter den zahllosen Kollabos ergibt sie mit Nu-Jazz-Ikone Nils Petter Molvaer. Bereits seit dessen "Khmer" schätzen sie die Arbeit des Norwegers. Dass dies auf Gegenseitigkeit beruht und NPM seit früher Jugend ebenfalls ihr Fan ist, wissen sie bis 2015 nicht. Als beide Bands sich auf einem Festival in Südfrankreich treffen, entsteht rasch echte Eigendynamik. Robbie dazu:
"Es war völlig verrückt! Seit ich Nils' Musik zum ersten Mal hörte, fesselte mich seine atmosphärisch dichte Verschmelzung verschiedener Stile und sein unvergleichliches Trompetenspiel. Jetzt sollten wir also zusammen auftreten, obwohl wir uns nie zuvor getroffen hatten. Doch als ich Nils in diesem kleinen französischen Dorf zum ersten Mal begegnete, mochte ich ihn sofort. Er riss einen Witz nach dem anderen, und sein Rücken schmerzte von der langen Reise – ganz wie meiner. So fühlten wir uns sofort verbunden. Schließlich gaben wir ein tolles Konzert, das uns die Möglichkeit gab, weit über unsere musikalische Komfortzone hinauszugehen und neue Wege zu entdecken Musik zu erschaffen."
Diese neuen Wege führen nicht nur zu einer ganzen Serie gemeinsamer Konzerte. Zusammen mit Eivind Aarsets Gitarre und den elektronischen Verzierungen Vladislav Delays kreieren sie im Studio den gemeinsamen Killer "Nordup", der im April 2018 erscheint. Die Platte ist atmosphärisch ein großer Wurf und musikhistorisch die erste relevante Begegnung des karibischen Reggae mit nordischem Nu-Jazz.
© Laut
Weiterlesen
Ähnliche Künstler
Die Alben
183 Alben sortiert nach Am meisten ausgezeichnet
Sly & Robbie im Magazin
Sly & Robbie & Nils

Das passiert, wenn jamaikanischer Rhythmus mit Nils Petter Molvars schwebender Trompete verschmilzt...