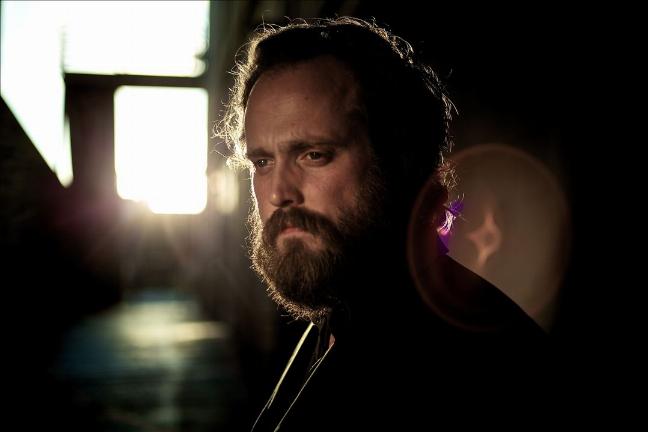 Es gibt Menschen, die sich unerhörten Strapazen unterziehen, um vor laufender Kamera eine Platte zu veröffentlichen, ihr Privatleben zu verlieren und von Kritikern in den Mülleimer geschoben zu werden. Andere arbeiten von ihren Wohnzimmer aus, kümmern sich nicht um ihr Image und müssen sich plötzlich mit Angeboten und Interviewanfragen auseinander setzen. Sam Beam ist zu Beginn seiner Karriere ein Mensch der zweiten Sorte. In Columbia, South Carolina geboren, studiert er Filmkunst in Virginia und Florida. Nach dem Abschluss zieht er nach Miami, wo er mit Frau und Kindern wohnt und Filmkunde an der Florida State University unterrichtet. Eine Biografie, die zu seinem Erscheinungsbild passt. In seiner Freizeit zieht er sich jedoch ins Wohnzimmer zurück und nimmt mit spärlicher Eigenbegleitung selbst geschriebene Lieder auf. Eines seiner Stücke landet auf dem Sampler einer Zeitschrift aus Seattle und macht Jonathan Poneman, den Plattenchef von Sub Pop, auf ihn aufmerksam.
"Die schönste und verführerischte Musik, die ich in den letzten Jahren gehört habe"
, urteilt er. Und fordert mehr.
"Nachdem wir ihn monatelang genervt hatten, schickte er uns zwei CDs voller Material"
, erinnert sich Poneman, der immerhin schon Nirvana im Katalog hatte. Eine Auswahl erscheint auf dem Debütalbum "The Creek Drank The Cradle" (2002) und der EP "The Sea & the Rhythm ". Beide erhalten sehr gute Kritiken und bringen Beam Vergleiche mit Nick Drake, Leonard Cohen und Neil Young ein.
"Jeder fragt mich, wie es sich anfühlt, so etwas wie ein Rockstar zu sein. Ehrlich gesagt, kann ich keinen Unterschied feststellen"
, erklärt Beam in einem Interview. Eine unspektakuläre Sicht der Dinge, die sich auch in seinem Bandnamen widerspiegelt.
"Ich arbeitete an einem Film für die Uni und betrat einen Laden für landwirtschaftlichen Bedarf. Dort gab es ein Proteinzusatz namens 'Beef, Iron, and Wine'. Eine interessante Wortkombination, wenn man das 'Beef' weglässt"
, erklärt er den Ursprung. Während der vorlesungsfreien Zeit begibt sich Beam auf US-Tour und macht sich in einschlägigen Kreisen landesweit einen Namen. Mit seiner Liveband, der auch seine Schwester Sara angehört, nimmt er anschließend sein zweites Album "Our Endless Numbered Days" (2004) auf. Wieder aus eigenem Material zusammen gesetzt, entsteht es sowohl im eigenen Wohnzimmer als auch im Studio unter der Führung des Produzenten Brian Deck. In den folgenden Jahren spielt die Öffentlichkeit mehr und mehr eine Rolle in seinem Leben. Nach einem Beitrag zur Komödie "In Good Company" (2004) veröffentlicht Beam 2005 eine EP mit dem Titel "In The Reins" in Begleitung von Calexico. 2007 erscheint sein drittes Album "The Sheperd's Dog", das rockiger ausfällt als seine Vorgänger. Die Raritätensammlung "Around The Well" (2009) ist Beams letztes Album bei Sub Pop. Sein viertes Album "Kiss Each Other Clean" erscheint 2011 bei Nonesuch (USA) und 4AD (Europa). Musikalisch weist es in eine neue Richtung. Weniger geradliniger Folk, mehr Mut zu Experimenten mit Beats und Synthesizern, der auch deutlich mehr Hörer als in der Vergangenheit findet - das Album schafft es gar auf Platz 2 der Billboard-Charts. Die beste Popmusik seiner Art seit Cat Stevens, urteilt der US-Rolling Stone. Noch eine Schritt weiter geht Beam auf seinem fünften Werk "Ghost On Ghost" (2013), das mit Streichern und Bläsern aufwartet. Anspruchsvoller Pop mit Jazz-Elementen, in dem Akustikgitarren nur noch eine untergeordnete Rolle spielen. Es folgen Kollaborationen mit Ben Bridwell ("Sing Into My Mouth", 2015) und Jesca Hoop ("Love Letter for Fire", 2016), bevor er 2017 gleich in doppelter Hinsicht zu seinem Wurzeln zurückkehrt: Das wieder folkige "Beast Epic" erscheint bei Sub Pop. Auch bandelt er wieder mit Calexico an: 14 Jahre nach der ersten Kollabo erscheint im Sommer 2019 "Years To Burn", gefolgt von einer gemeinsamen Tour, auch im deutschsprachigen Raum.
© Laut
Weiterlesen
Ähnliche Künstler