U bent hier:

Home

>

Magazine

>

Hi-Fi

>

Getest

>

FiiO Q1 Mark II: Qobuzissime for this DAC with headphone amplifier which sounds really great!
Wanneer u bent aangemeld met uw Facebook-account, kunt u het artikel dat u aan het lezen bent na 10 seconden met anderen delen
. U kunt deze optie inschakelen in
uw instellingen voor externe services
.
Veel leesplezier!
FiiO Q1 Mark II: Qobuzissime for this DAC with headphone amplifier which sounds really great!
This FiiO Q1 Mark II gives you the chance to transform your smartphone into a high-end sounding digital audio player and we awarded it with our Qobuzissime award! Just wait until you see how much it costs...
Door Abigail Church |
Getest
| 3 november 2017
In December 2015, we brought you a testing ground on the FiiO Q1 DAC with headphone amplifier, and today is the turn of its successor, which is quite naturally called the Q1 Mark II.
But despite this change of suffix in its name, which would usually only suggest a simple evolution, the exterior design and the functionalities have undergone a big change (justified for once) with the addition of a 4-pole symmetrical headphone Jack output, while design of the electronics has been completely overhauled and now uses the same headphone amplification circuits as the X7 Mk II; digital audio player from the brand.
The FiiO Q1 Mark II ; is thus a completely different device from its predecessor, and, if its appearance is somewhat rounded, its electronics has been seriously sharpened!
||About the FiiO Q1 Mark Ⅱ DAC|| |Type:|Portable digital-to-analog converter with headphone amplifier| |Function:|Transforms digital audio data into audible sounds and amplifies them| |USB Compatibility:|PC, Mac, iOS, Android| |Converter:|Asahi Kasei AK4452 (32-Bit/768 KHz, DSD64, 128 and 256)| |Digital inputs:|Micro USB| |Analog inputs:|3.5 mm Jack| |Audio outputs:|3.5 mm headphone Jack,
2.5 mm symmetrical headphone Jack,
line out on 3.5 mm Jack (combined with the input)| |Supported impedances:|From 16 to 300 Ω| |Headphone amplifier power:|75 mW / 32 Ω (3.5 mm Jack),
220 mW / 32 Ω (2.5 mm Jack)| |Battery life:|>10 hours in DAC mode| |Other:|Low and High gain selectors
and Bass Boost| |Dimensions (L x H x P):|59 x 12,5 x 99| |Weight:|3.56 oz (101 g)| |Design/Manufacturing:|China/China| |R.R.P.:|99 euros| |Contact:|Son-Vidéo.com|

Presentation
The design of the DAC with headphone amplifier FiiO Q1 Mark II is simple, stripped-down but very ergonomic, with a rather thin oblong box that fits in your hand quite nicely! It can of course be coupled to the smartphone it will be associated with thanks to the elastic straps provided among the accessories.

The facade is organized clearly and logically. On the left, you'll find the volume button with a switch whose slight knurling enables its grasping, as well as a two-colored LED lighting in blue on powering up, in red when you charge the device when it's off, and in purple when you charge the device when it's on.
Just beside it, a green LED indicates, when it lights up, the decoding of a DSD file. The comes a 3.5 mm Jack socket working as an input to use the FiiO Q1 Mark Ⅱ as a headphone amplifier with an external analog source or as a line output. Two headphone outputs are available, both encircled by a golden crown. The outward one will be used with a standard pair of headphones equipped with a 3.5 mm Jack socket, while the other one can drive a symmetrical pair of headphones equipped with a 4-pole 2.5 mm Jack socket.
On the back, you can plug the device to a computer, a smartphone or a tablet through a micro USB socket. The manufacturer provides several cables, among which there is a short but useful Lightning-micro USB avoiding the use of the Camera Kit. It's a nice addition, especially for when you're on the go.

You'll also find two small slide switches, one allowing you to turn up the bass volume, and the other to choose between a low or high gain, depending mainly upon the sensitivity of the headphones used or of the source when you use it as a headphone amplifier.
Manufacturing
In a space barely ten millimeters wide, the manufacturer has managed to include a plastic chassis where the battery and the entirety of the electronics are located.

Aside from the battery charging system, the whole electronics are located on the bottom side of the circuit, which is very carefully designed, artistically even!

The USB processor is a recent XUF208-256 XMOS model, surrounded by three oscillators (one for the master clock and two for the synchronization with the digital audio signals) and compatible with PCM signals up to 384 kHz and DSD64, 128 and 256. Not far from it, you'll find the microcontroller, a Texas Instruments MPS430G2433.

The digital-to-analog conversion and amplification section is advanced, and the manufacturer gives a detailed synoptic of it here.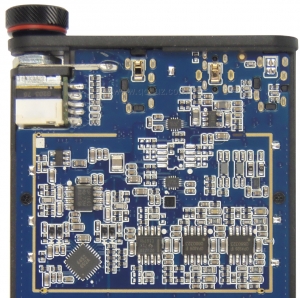 The digital-to-analog conversion is handled by an Asahi Kasei AK4452 compatible with PCM signals up to 32-Bit/768 kHz and also DSD but not in native mode, the latter being internally converted to PCM. The low-pass filter (LPF) after conversion is built around a very low-noise and low-distortion operational amplifier, a Texas Instruments OPA1662 from the Sound Plus series.
Volume control and gain changes are made through a NJU72315 integrated circuit, that we weren't able to locate (maybe it's next to the battery?) and the Internet seems to ignore its existence.
Then comes a Texas Instruments OPA2322 operational amplifier, obviously used as a buffer before the OPA296 headphone amplifier, customized for FiiO, which is the only information we could find on these circuits. Bass boost is done at their level, and one of the double boxes amplifies the in-phase signal while the other amplifies out of phase, and a switch handles the routing when you use a pair of headphones in symmetrical mode (2.5 mm bal out).
Sound
Wow! This FiiO Q1 Mark II works really well, even if it is a bit limited in the power department with our Oppo PM-3 headphones (whose efficiency isn't extraordinary), at least with the album we chose to start our listening tests with the Qobuz application for iOS on our iPad, Carl Orff's profane cantata Carmina Burana performed by the London Philharmonic Choir and the London Philharmonic Orchestra conducted by Hans Graf (24-Bit/44.1 kHz Hi-Res version). However, our ears got a real treat and we felt no frustration, far from it actually.

What may be the most surprising about the FiiO Q1 Mark II DAC's excellent sound reproduction is its liveliness, not to mention the life we feel, even if this recording is a live version that doesn't usurp its designation. Listening to the Ecce Gratum track, we are enthralled by the impact of the bells and the build-up of the chorus, which doesn't display any harshness or saturation. The powerful brass chords starting the next track, Uf dem anger : Tanz, are as striking and the FiiO Q1 Mark II takes pleasure in dragging us in this very lively Tanz with extreme joy. As for the timbal impacts, the device isn't scared of them either and it reproduces them with firmness and energy; likewise, it refuses to be intimidated by the fortes blending the orchestra and chorus together in this colorful masterwork that it restitutes masterfully, from the deepest bass to the highest treble.
It would almost be a walk in the park for this device to reproduce Vivaldi's album Vespri per l'Assunzione di Maria Vergine performed by the Concerto Italiano conducted by Rinaldo Alessandrini, despite its trappings, but neither the ancient instruments' timbers nor the outbursts of the chord attacks are problematic for it, while the soloists and the choruses easily rev up without losing their finesse.

When we listened, with the Qobuz application for Mac/PC, to various tracks from Julien Doré's album &, among which we find Le Lac and Corail, we instantly fell under its spell thanks to the flawless restitution that enhances both singers' voices on the second title, giving it a striking presence that is supported by an unfailing accompaniment. It's very beautiful.

Linked to our Sony UDA-1 amplifier driving our Triangle Antal Anniversary speakers, the FiiO Q1 Mark Ⅱ offers here again a very sharp reproduction of the title Another One Bites The Dust from Queen's album The Platinum Collection, where the accompaniment is as powerful as can be, while the vocal side turns out to be very clear and precise.

Let's add a word about bass reinforcement. Only active on the headphone outputs, it's effective and well-balanced, and doesn't thicken the restitution.
To conclude, we award without hesitation a Qobuzissime to this FiiO Q1 Mark II DAC with headphone amplifier, and it joins the limited circle of small and pretty cheap gems that we've already tested in this product category.
Specifications(in French)
User Manual (in French)
User Manual (multilingual)
FiiO Website
Contact


We would like to give our thanks to Son-Vidéo.com for lending us the FiiO Q1 Mark II DAC.
To follow everything happening here at Qobuz, join us on Facebook!