Tech Roundup: Choosing In-ear Wired Headphones in 2019
Do you prefer headphones that cover and surround the entire ear or those that are inserted into the ear canal? Opinion is divided, and the headphone market has developed to accommodate both preferences. In-ear headphones are, as the name would suggest, intended to be inserted inside the ear, as close as possible to our eardrum. Earbuds are often changed to fit the size of your ear meaning that even the most ambient sounds are well-heard without need for a noise-cancelling system. What's more, in-ear headphones are discreet and are capable of reproducing sound just as complex as their, more cumbersome, over-ear counterparts. Read on to find out all there is to know for making an enlightened choice.
Door Alban Amouroux |
Nieuws
| 31 oktober 2019

The small wired earphones that have long been sold alongside gadgets such as iPods and, later, smartphones and tablets, have never stood out for their audio quality. Digital Audio Players, or DAPs, rarely bother to include such dispensable equipment, leaving it up to you to seek out a quality headset of your choice. Like an in-ear model, for example.

Earpieces were initially little loudspeakers that one simply placed in the hollow of the ear, never penetrating the ear canal itself. Isolation from external sound was always therefore an area to be worked on. In-ear headphones, that enter the ear canal, are the result of professional applications and, more specifically, music professionals. In concert, musicians require a certain degree of isolation so as to better hear some instruments over others. In-ear headphones meant they could do away with large headsets.

In-ear headphones adapt to one's ear thanks to different sized endpieces or tips. Manufacturers provide up to a dozen different endpieces to maximize personalization. Some over-ear headphones maximize comfort with a larger casing that rests on the auricle or around the ear. This diverse top ten presents the best in-ear headphones currently available on the market.

1. SoundMagic E11D: great entry-level in-ear headphones
Prce: 69 euros
Features: 10mm transducer, 15-22,000 Hz, remote control and microphone, USB-C, 15g
The SoundMagic E11D is made entirely of metal and flaunts a high value look at a very accessible price. The casing does not outsize the endpiece, so it is therefore the latter that holds the headphone inside the ear, something that shouldn't be too difficult considering the overall weight of the headphones, a reasonably light 15 grams. It's a shame that no spare tips are included with these headphones.

Compared to the E11C, the E11D has swapped the 3.5mm plug for a USB-C plug. The headphones also integrate a DAC (a 24/96 so it's perfect for Hi-Res) and an amplifier. A small remote control is installed along the cable allowing you to adjust the volume and pick up calls which can be carried out hands free thanks to the inbuilt microphone.

THE GOOD
Metal finish
Integrated DAC
Remote control


THE BAD
No tip replacements
Incompatible with iPhone


2. Beyerdynamic Soul Byrd: the best in-ear headphones for balancing quality with price
Price: 79 euros
Features: 18 ohms, 10-25,000 Hz, remote control and microphone, 4-pole 3.5mm jack, 11g
Beyerdynamic offers an assortment of three in-ear headphones in a very affordable price margin. The Soul Byrd is the intermediate model, wired and with integrated remote controls. The controls allow you to adjust volume and take calls. Its low impedance and sound pressure of 103 dB per MW renders it compatible with all apparatus without constraint.

Its design was conceived with optimal durability in mind. The headphones are protected by an aluminum exterior and the cable's material prevents it from tangling. The Soul Byrd comes with five pairs of different sized tips and a rigid transport case. With a weight of around 5 grams per headphone and a rounded design that sits well in the ear, it truly is a universal headset.

THE GOOD
Lightweight
Comfortable
Remote control


THE BAD
Nothing like it at this price


3. 1MORE Triple Driver: headphones that literally bend over backwards for your ears
Price: 89 euros
Features: 32 ohms, 20-40,000 Hz, remote control and microphone, 4-pole 3.5mm jack, 18g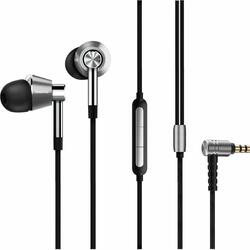 1MORE's Triple Driver comes with nine pairs of earbuds: six silicone, three foam. The transducers are also rotatable at 45°. The combination of both these possibilities means that you should be able to configure the headphones to fit your ear canal well. The small, rigid transport case that is included can protect the headphones even though aluminium design should already make it sufficiently robust.

The technology inside the Triple Driver is rather advanced for its price range. Each earpiece holds two balanced armatures and a double compression chamber. With 32 ohms and 99 dB of acoustic pressure per MW, the Triple Driver headset is universal and can connect to any 3.5mm jack. On the cable, is a control panel made up of three buttons and a microphone for adjusting volume and taking calls.

THE GOOD
Finish
Accessories
Adjustable earbuds


THE BAD
Comfort requires configuration


4. Ikko OH1: a dual-transducer headset at a very affordable price
Price: 149 euros
Features: 18 ohms, 20-40,000 Hz, detachable cables, 3.5mm jack, 12g
The aluminium alloy casing and blue finish to these OH1s will not go unnoticed. Ikko have pushed the detail so far as to paint the sockets in the same colour. The twisted oxygen free copper cable is detachable and ends with a two-pin plug. The small cloth bag that is included helps with the transportation of the headphones and cable.

Rare at this price tag, OH1s are equipped with two different transducers. Dynamic 10mm loudspeakers for bass and medium-range sounds and symmetrical armatures for higher sounds. Ikko include six pairs of earbuds in two categories. The "balanced" models for full coverage of the entire sound spectrum and the others named "voice" for emphasis on voice sounds. Thanks to these earbuds, you can adapt the earphones to suit the type of music that you are listening to.

THE GOOD
Finish
Double transducer
Two types of earbud


THE BAD
Earbuds are a little short
Indiscreet


5. Bose QuietComfort QC20: Go-to in-ear noise cancelling
Price: 249.95 euros
Features: iPhone or Android version, inbuilt battery powered noise cancellation, 3.5mm jack, 44g
QuietComfort QC20 headphones continue their journey since their creation six years ago. Their excellent abilities have never been brought into question. The model is one of the first in-ear headsets dedicated to noise cancellation. The noise cancellation works through an isolated box located along the audio cable. Its battery provides 16 hours of listening after two hours of charging via a USB port.

With "Aware" mode, noise cancelling can be reduced to allow the listener to stay connected with the world around them. Three pairs of tips are provided featuring a flexible part that matches the inside of the auricle, improving comfort and the feeling of lightness. The QC20 is available in two versions: for Android smartphones and iPhone. For iPhone, a remote control can also be found on the audio cable.

THE GOOD
Noise cancellation
"Aware" mode
Comfortable


THE BAD
Bulky
Aging model


6. Sennheiser IE 80 S: An entirely customisable in-ear headset
Price: 349 euros
Features: 16 ohms, 10-20,000 Hz, detachable cables, 3,5mm jack, 18g
Outside their numerous headsets made for residential and professional use, Sennheiser also makes more nomadic models. The IE 80 S is an adaption of a model that has been around for ten years. Its minimalist design comes equipped with a unique transducer inside each earpiece. But it's the mechanical fine-tuning on the devices exterior that draws all our attention. The headphones allow you to regulate bass on five levels to adapt output to your tastes.

The headphones come provided with nine pairs of tips made from three different materials: silicon, lamella and memory foam. According to the type used, natural sound reduction is at 26 dB once the earbuds are inserted. Round-ear supports are also provided if you find their hold is insufficient. All accessories as well as the headphones can be stored in the small travel bag that is included.

THE GOOD
Bass adjustment
Natural isolation
Customisable


THE BAD
Price is a little high
Limited bandwidth


7. Earsonics ES3: For sound on a vast scale
Price: 399 euros
Features: 3x transducers, 31.5 ohms, 10-20,000 Hz, detachable cables, 3.5mm jack
As the brand likes to remind us, Earsonics ES3 2019 headphones are entirely made in France. These headphones continue to reinforce the mastery we have come to know in previous generations of the model. Rather imposing visually, they are adorned with a brilliant black finish. ES3 2019s flaunt three transducers per earpiece, each handling their own range: high, medium and low. An impedance filter is equipped to correct and organise sound alongside an acoustic diffractor to widen the sound coverage.

Cables are detachable with a two-pin connector on one end and a 3.5mm jack on the other. Earsonics are sold with four tips: two silicon and two memory foam. The impedance is small enough for them to work with all sources while their sensitivity of 116 dB should be more than enough to attain comfortable sound levels.

THE GOOD
High-end tech
Triple transducers
Finish


THE BAD
Sold with few tips
Limited bandwidth


8. Audeze iSine 10: planar magnetic technology in discreet mode
Price: 499 euros
Features: 30mm transducer, 24 ohms, 10-50,000 Hz, detachable cables, 3.5mm jack, 22g
Planar magnetic technology requires space to fully show what it's capable of. Audeze, a major player in the field, has succeeded in miniaturising its transducers to just 3cm in diameter so they can fit inside in-ear headphone casings. They nevertheless take up a fair amount of space while pumping sound into the ear canal.

The bulk of the headset, that covers the outer ear, is rather large. In addition to three pairs of tips, Audeze provide four types of hooks to firmly secure the headphones in and around the ear. In exchange for such bulk, you can profit from the clear sound of a planar magnetic headset (more precise and uniform sound coverage), when and wherever you wish. This technology is in essence semi-open so it would be best to avoid overly noisy environments.

THE GOOD
Planar magnetic
Support hooks
Large bandwidth


THE BAD
Bulky
Sold with few tips


9. Beyerdynamic Xelento Remote: The best technology Beyer has to offer in in-ear headphones
Price: 799 euros
Features: 16 ohms, 8-48,000 Hz, 2x detachable cables, remote control and microphone, 3.5mm jack, 7g
Beyerdynamic's Xelento Remote has become a reference point for in-ear headphones. The technology owned by Tesla has been implemented with transducers that benefit from a large magnetic field. The result is excellent performance from the transducers' membrane, rapid transitory and powerful bass. The standard impedance of 16 ohms allows functionality with all devices.

The black and chrome finish confirms the Xelento Remote's luxury status. The cables are detachable and come in two forms: one standard and another with an integrated remote control and microphone. So as to optimise positioning in the ear, Beyerdynamic includes a fair few different tips, of which three are memory foam. You'd be stretched to find one that doesn't fit well with your ear shape. Their rounded design and relatively compact casing allow them to be inserted into the pavilion and stay firmly in place.

THE GOOD
Large bandwidth
Cables with and without remote control
Finish


THE BAD
Exterior sound blocking


10. Sony IER-Z1R: In-ear headphones completely dedicated to Hi-Res
Price: 2,199 €
Features: 3x transducers, 40 ohms, 3-100,000 Hz, 2x detachable cables including one symmetrical TRRS, 26g
Sony have released one of the most unique in-ear headsets on the market. IER-Z1Rs are partially made from zirconium, a rare and very strong metal. The beautiful chrome design features chic exterior detailing; these headphones would not pass unnoticed. They are sold along with two cables: one standard with a 3.5mm jack and one symmetrical with a 4.4mm TRRS connector.

Under the hood, Sony have placed three top-of-the-range transducers: one 12mm diaphragm, one balanced armature transducer and one 5mm super tweeter that reaches 100 kHz. All three are perfectly aligned for maximum coherence and sound reproduction. Thirteen different pairs of tips are included to allow you to adapt the IER-Z1R to your ears. They are the perfect companion for the Japanese manufacturers top-of-the-range digital audio players.

THE GOOD
Triple transducers
Very wide bandwidth
Symmetrical cable


THE BAD
Not overly discreet
Price


Coming in different sizes and weights, with inner or outer-ear supports, there are many different kinds of in-ear headphones. Aside from their sound capacity and other additional features, comfort is the most important aspect and should be addressed first. Most manufacturers include different tips, but it is sometimes possible that none of these will fit your ear. Matching the shape of one's ear is a lot more complex than it is with over-ear headphones that are simply placed on top of your ears. Even over-ear headphones differ in shape between brand and model.
If you have never bought one in the past, then it is imperative that you try on an in-ear headset before you buy one. Wired headphones still hold some advantages over their Bluetooth counterparts as they guarantee Hi-Res listening as long as the transducers are capable. Quality differs between entry-level models and more luxurious ones; the type of transducer and its quality make a difference. But it is the manufacturer who has the final say with regard to the sound signature that headphones produce. Quality of sound, as is also the case with Hi-Fi speakers, is never set in stone. And while reproduction of bass is often the first thing to be criticised, it is how they handle other registers and the breadth of sound they cover that sets them apart.


***

To stay up to date with everything happening at Qobuz, follow us on Facebook !